Zumas not worried as Duduzane flies in for dad's belated birthday party celebrations
Zumas not worried as Duduzane flies in for dad's belated birthday party celebrations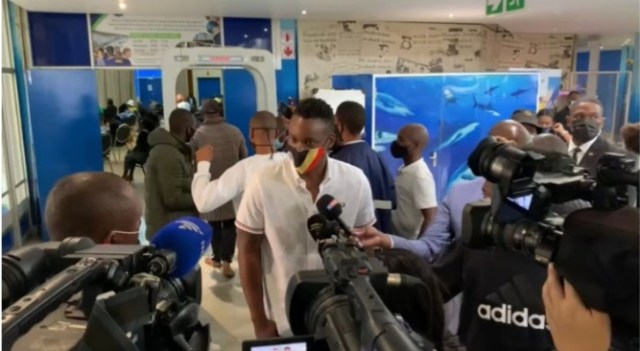 Zumas not worried as Duduzane flies in for dad's belated birthday party celebrations
Duduzane received a superstar welcome at the Sharks Board in Umhlanga in Durban where the South African National Civic Youth Congress is hosting a belated birthday celebration for Jacob Zuma.
The former president is expected to attend the jamboree. One of the attendees Congress of SA Students' Sandiso Zulu reports that the event is to celebrate and support former president Zuma.
"We are here to support him as youth because he has done a lot for the youth in South Africa. Former President Jacob Zuma is innocent until proven guilty," Zulu said.
The occasion comes a day after Zuma's legal team filed a normal notice of withdrawal in his corruption trial set to begin on the 17th of May this year. Earlier this month Duduzane posted a threatening message on Twitter after his father received a letter from the Chief Justice.
In the post Duduzane wrote,
"If it is war they want, it is war they will get. My father won't choose anything, let them decide but they must be ready to deal with consequences."
Many people were not pleased with the threat. The threat post followed a post when Duduzane was claiming to be a self made businessman and people hate him because he is a black man that has made it in life. Again, many were not impressed with the post claiming that his money is from his father's corruption deals.
Mzansi cannot wait to see how this whole scandal unfolds. It seems the former president has something under his sleeves.