Zodwa melts Mzansi heats with a beautiful gesture towards a young kasi girl
Zodwa melts Mzansi heats with a beautiful gesture towards a young kasi girl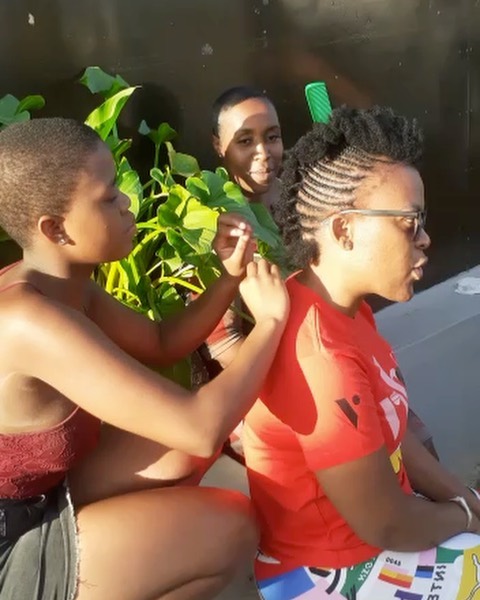 Zodwa Wabantu visited a local township and asked a random girl is she could do a simple freehand braiding. Unaware of what was about to transpire the girl said she could and Zodwa paid her R500 to braid her hair.
The South African socialite says she did so as way of helping the girl so that she can buy herself Sanitary pads, Roll-on and airtime. Zodwa further explains that her deed is to keep the young girl off men not buy her those things in exchange of s.e.x.
Taking to Instagram Zodwa posts a video of the girl braiding her with the caption,
"When I'm at Ekasi😍 I Called any young Girl & Asked do you Know how to braid? So that a R500 she can take it Home & buy herself Pads,Roll-on & Airtime. To keep her as a Young Girl off Men not to buy her those things in Exchange of S.e.x🙏🏽"
Yet again Zodwa's fans are delighted to see her doing such a wonderful deed and teaching girls to work for money and their needs and not to be spoon fed by men who will take advantage of young girls innocence'. Replying to the post, Mzansi applauds Zodwa saying,
"Yabona ungumntu wabantu indeed. Ndiyakuthanda straight."
"Your mindset and heart are in the right place 👌👌👏"
"Wooow so great God bless u abundantly 🙏 zodwa"
"May God continue to bless you sisi"
"👏👏👏 great, I'll do the same next time"
Zodwa gives back to where she comes from and South Africa loves her for that. It is a good lesson and a reminder to girls that you can work for your own money and still not depend on men. Some people are encouraged to do the same as a way of empowering the girl child.