Zimbabweans in South Africa Protest, Demand Nullification of Elections in Zimbabwe
Zimbabweans in South Africa Protest, Demand Nullification of Elections in Zimbabwe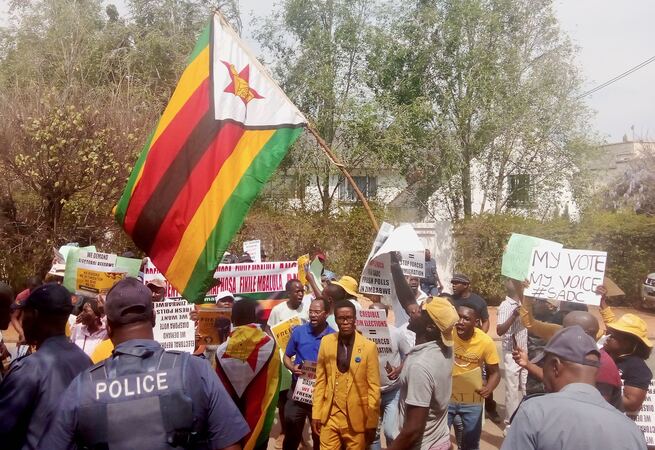 In a display of solidarity and frustration, various groups of Zimbabweans residing in South Africa took to the streets of Pretoria, Johannesburg, and Cape Town to demand that the recently held general elections in Zimbabwe be declared null and void. Led by Advocate Talent Rusere from Progressive Zimbabweans in South Africa, the march saw participants rallying from the Union Buildings to the Zimbabwean embassy in Pretoria, while chanting slogans such as "We just want to go home" and "Ramaphosa must stop interfering with Zimbabwean politics." The demonstration drew a substantial police presence to ensure order and safety.
The motivation behind the protest stems from the perceived lack of credibility surrounding the electoral process in Zimbabwe. Advocate Rusere expressed concerns about the alleged capture and bias of the Zimbabwean electoral commission, suggesting that it undermined the legitimacy of the elections. Additionally, the absence of a diaspora vote further fueled discontent among Zimbabweans living outside the country.
The election results declared Emmerson Mnangagwa as the winner of a second term as president, with his main rival, Nelson Chamisa, officially receiving 44% of the vote. However, according to a report by the Daily Maverick, the Southern African Development Community (SADC) expressed reservations, stating that the elections did not meet the requirements outlined in the Zimbabwean constitution.
Advocate Rusere emphasized that the prevailing government was not considered legitimate, calling for fresh and transparent elections that truly represent the will of the people. Criticism was also directed at South African President Cyril Ramaphosa, who congratulated what the protesters deemed an illegitimate government during his visit to Zimbabwe. This perceived endorsement stood in contrast to some South African politicians who have expressed a desire for Zimbabwean immigrants to leave the country.
Among the demonstrators, stories of personal hardship and a longing to return to Zimbabwe emerged. Patricia Chivongodze, who has been working as a domestic worker in Eersterust for a decade, spoke of feeling silenced by the oppressive conditions in Zimbabwe and expressed a desire to return home once the environment becomes conducive to a decent living. Chivongodze stressed that the current conditions in Zimbabwe were inhumane, making it impossible for her and others to envision a meaningful future in their home country.
Another protester, who chose to remain anonymous, had temporarily returned to Zimbabwe to participate in the elections but found the situation unbearable. Determined to protect his children from the hardships they would face, he made the difficult decision to bring them to South Africa, where he believed they would have better prospects.
The demands and frustrations expressed by the Zimbabwean diaspora in South Africa highlight the deep-seated concerns regarding the electoral process and the political landscape in Zimbabwe. Their voices serve as a reminder of the challenges faced by individuals who have left their home country in search of better opportunities. As the protests continue, the hope for a fair and inclusive democratic system in Zimbabwe remains a key aspiration for many in the diaspora.