Yung Miami Does U-Turn On Golden Showers Confession
Yung Miami Does U-Turn On Golden Showers Confession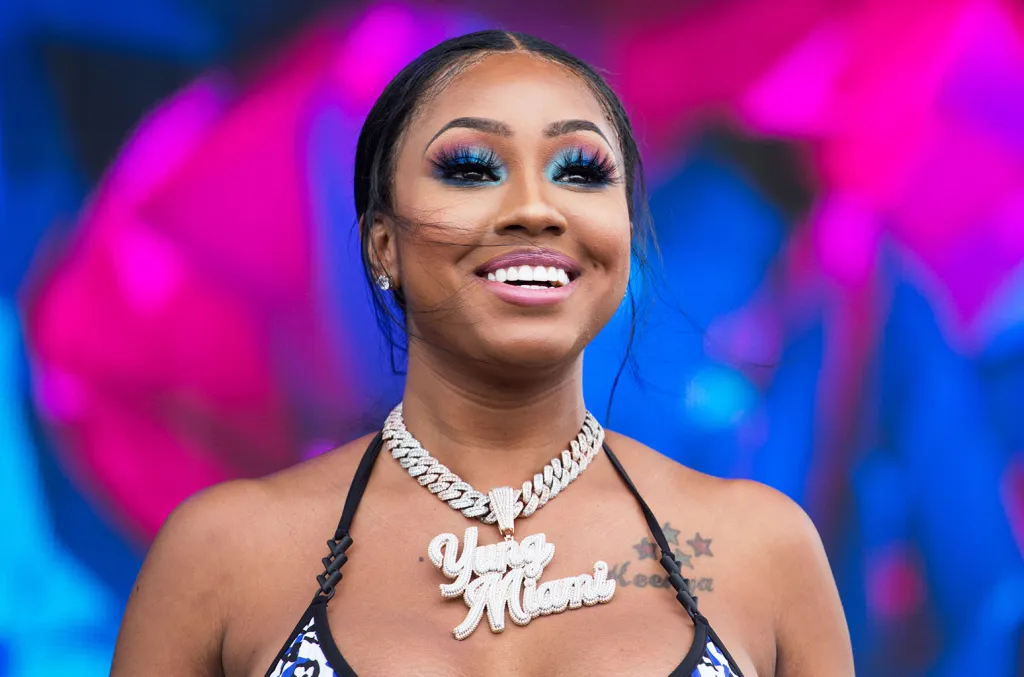 Yung Miami has taken back her "golden showers" confession, now saying she prefers "regular showers" to the sex act involving urine. The City Girls stopped by Drink Champs for the podcast's latest episode, and both Yung Miami and JT burst out laughing when N.O.R.E. asked if they preferred a "regular shower" or a "golden shower," referring to Miami's confessed guilty pleasure in the bedroom.
"Ugh, I did," Miami said after being asked if she admitted to enjoying the sex act. "But you should go buy Resha Roulette."
Check out the clip below:
Resha Roulette is Yung Miami's drinking card game that caused her to admit she enjoys the fetish during an episode of her talk show Caresha Please in January.
"It says to take a shot if you like golden showers, I do. I just like it," Miami revealed alongside Trina. "I'll take a shot. I don't know, it just feels so good. I had a golden shower and I liked it.
"It's fun. You know when you drunk and you just [get] pee in your butt, pee in your pussy. I don't know. You can pee on me when we're in the shower, you can pee on me once you cum, it just depends. It depends on how the night's flowing."
Trina admitted she's never received one, but said she's open to trying new things in the bedroom.
"Freak of the week…I'ma be honest with you, I've never had a golden shower," Trina added. "I've never had a golden shower. I've given one. Is that the same thing as squirting? I give 'em… I've never experienced that but I'm all about trying new things."
The confession immediately became a trending topic online, including the term "Pee Diddy," since the Florida rapper and Bad Boy Records mogul Diddy were dating at the time. Summer Walker even chimed in at one point with a clarifying question.
"I have a genuine question about this, no judgment," the R&B singer asked on Instagram. "Like do you require a certain water intake before this or it doesn't matter? I'm saying is it that clear odorless pee or that stankin dark yellow Hennessy infused perc 30 black and mild hot wing piss?"
In related news, Yung Miami had previously declared that this summer would be the last one she'll spend "outside" as she's ready to get serious with someone new. Last week, the City Girls rapper took to Twitter to make the announcement, a few months after confirming that she and Diddy were no longer dating. "I'm ready to be in a relationship and love again," she wrote. "This was my last summer being outside!"
Miami certainly has plenty of eager bachelors to choose from, including former NFL wide receiver Antonio Brown, who tried to woo the rapper after a meet-up at Rolling Loud earlier this month.
"Told Caresha I'm in the city. She doesn't need diddy," he captioned a photo featuring the two of them on Instagram. Despite Brown's attempt, Yung Miami was later seen partying with Diddy after her show, vibing to the pair's new track "Act Bad" with JT and Fabolous.
While the pair officially broke up in April, Diddy and Yung Miami have been spotted together numerous times these past few months, including at the 2023 Met Gala, where Puff was seen sweating bullets as he was grilled about their relationship on the red carpet.
"We definitely go together real bad. She's my date for the night, she's incredible," he said after initially trying to dodge the question. "We don't put titles on it. Everybody wants us to put a title on it; we don't put titles on it. This is like my best friend in the world, one of the most beautiful people God has blessed me to meet, and I'm blessed that she's my date tonight."
"We definitely go together real bad. She's my date for the night, she's incredible," he said after initially trying to dodge the question. "We don't put titles on it. Everybody wants us to put a title on it; we don't put titles on it. This is like my best friend in the world, one of the most beautiful people God has blessed me to meet, and I'm blessed that she's my date tonight."