You don't qualify to be a woman – Ntsiki Mazwai fires shots at gay Somizi
You don't qualify to be a woman – Ntsiki Mazwai fires shots at gay Somizi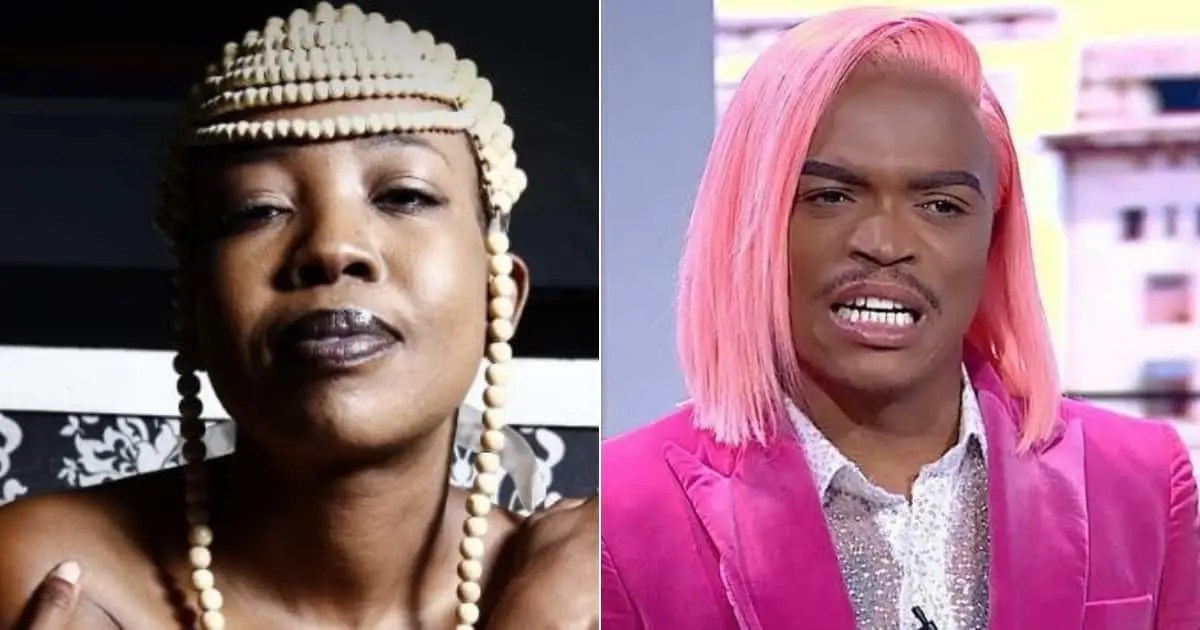 Controversial artist and activist, Ntsiki Mazwai never liked Somizi Mhlongo, but we can compile a list of the many celebrities she despises. But her focus tends to shift to one person at a time and this time, Somizi is catching the heat.
A clip circulated of a fight that broke out between Somizi Mhlongo and Thembi Seete after the Sunday broadcast of IdolsSA.
Social media users have been arguing whether the fight was staged or not, especially because they are in a bid to keep the numbers up.
So Idols SA decided to fake a fight between Somizi and Thembi because we no longer talk about it

Bafwethu nothing gonna change our minds with that show

We are tired of it … 😫😫😫

— ChrisExcel (@ChrisExcel102) August 2, 2022
Ntsiki Mazwai chimed in on the debate and relayed her thoughts about Somizi being rehired in the first place. She questioned why Somizi got hired back on Idols when he is apparently a s.e.x offender. "Somizi is a convicted sex offender… He paid a fine. He was even arrogant in court. He is a sex offender. He is on the list that the president said would be made public."
Ntsiki even said Somizi has always been jealous of alpha females, and his attack on Thembi is not new.
Somizi has ALWAYS been jealous of alpha females….. Always https://t.co/32lxVAHWsk

— ✨KUMKANIKAZI✨ (@ntsikimazwai) August 1, 2022
But it was this statement that did not sit well with a lot of people and so the insults started rolling in.
Being a gay man does not qualify you to be a woman….

Youre a gay man…… That's that.

Please stop trying to erase us. 🙏🏿

— ✨KUMKANIKAZI✨ (@ntsikimazwai) August 2, 2022
Ntsiki ruffled a few feathers when she said this but she stood her ground and said the LGBTQI community does not like to call each other out, labeling them toxic.
Attacking my supposed non existent career won't give you a vagina…..

— ✨KUMKANIKAZI✨ (@ntsikimazwai) August 2, 2022
On whether she thinks the fight was staged or not, Ntsiki said she does not think so and added that they kept the footage for ratings, "It wasn't staged…It happened off air and the 0roduxtion decided to use it for ratings and drama because they are not doing well after hiring a convicted sex offender."
Ignoring and blocking the trolls, Ntsiki continued slamming Idols for hiring Somizi back on the singing competition. She even said none of the judges are qualified to judge because they cannot sing.
The poet tipped her hat off at Thembi Seete for standing up against Somizi.
Feminists and the public have been question @IdolsSA and @MultiChoiceGRP for hiring a sex offender. Hence the outcry when @TrueLoveMag had him on the cover.
ALL THESE LEADERS KNOW HE IS A SEX OFFENDER. THEY IGNORED IT.

— ✨KUMKANIKAZI✨ (@ntsikimazwai) August 2, 2022
To be honest tho…. That whole panel of judges is wack

😂😂😂😂😂😂😂

Nobody can sing there….. Nobody.

— ✨KUMKANIKAZI✨ (@ntsikimazwai) August 2, 2022