Why is Somizi the only one rich while other Sarafina actors are hungry?
Why is Somizi the only one rich while other Sarafina actors are hungry?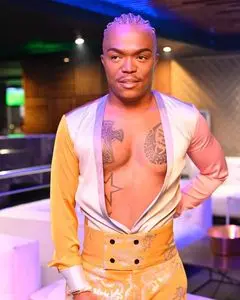 Somizi Mhlongo's riches after the movie, Sarafina have sparked a conversation. Tweeps are wondering how is he the only one living large only after his debut on Sarafina yet the rest of the cast is nowhere near his wealth.
The controversial Chris Excel on Twitter has set Twitter abuzz while questioning media personality and reality TV star Somizi Mhlongo's riches. It is a known fact that Mhlongo has his fingers in all the pie but tweeps are more convinced that there is more than meets the eye where Mhongo's wealth is concerned.
And why is Somizi the only one rich in Sarafina cast while others are hungry…

— ChrisExcel (@ChrisExcel102) November 5, 2022
Quite a number of times Somizi Mhlongo's wealth and riches have been topic issues. While some believe that he is a chosen one in Mzansi's entertainment industry. Others are convinced that all his wealth relies on nothing but him being a member of the LGBTQI+ community.
Do you think he'd be rich if he/she didn't switch genders? pic.twitter.com/BIJUbeLG6Q

— Bhuti Photographer 📸 (@bhuti_mayii) November 5, 2022
Remember he is eating with both hands (cucumber and peach) so he is a different spirit and upperhand soul. pic.twitter.com/aMd9l4VKYb

— Lekgema (@komane_sam) November 5, 2022
Meanwhile some tweeps also mentions that Mhlongo did not even have a bigger role in the movie, Sarafina. However, there was a time when Mhlongo had it difficult in life, despite having a mother like the late Mary Twala. Twala is a renowned actress and has made her wealth from a young age.
And he didn't even have a big part in the film pic.twitter.com/2eLglruOG0

— The Boss 😎 (@t_dzyl) November 5, 2022
In past interviews, Mhlongo has also shared that there was a point in his life where he was checking for change in couches, he did not have money for bread.
Recently on an interview with 947 FM, Mhlongo admitted that during his broke days he would do anything for money, he added he would 'tap a girl'.
"When you're broke anything goes. Me, during those three years, I would have tapped a girl. When you're broke and you take drugs, you become broker. You know, you become brokest. I know for a fact now, for the past year, I am the biggest personality. I may not be the richest but I'm ranked there" said Mhlongo
Not so long ago, the Sarafina cast had a reunion in Hollywood and Somizi Mhlongo wasn't invited. Leleti Khumalo and Anath Singh met with actress Whoopi Goldberg for the 30th anniversary of Safarina and Mhlongo was not invited.