WhatsApp Screenshots: Izangoma Zodumo star Gogo Ngwemabala's life under serious threat – It's war
WhatsApp Screenshots: Izangoma Zodumo star Gogo Ngwemabala's life under serious threat – It's war
It seems the drama on the reality show Izangoma Zodumo is not just for the screen. And things are so bad one of the stars of the show lives in fear. Taking to Instagram and Facebook live, Prudence Magagula, popularly known as gogo Ngwemabala, revealed she has been getting death threats.
She said the threats came after she appeared on the popular show, which was aimed at debunking myths around izangoma.
Gogo Ngwemabala said the mayhem started in January after she bought a house.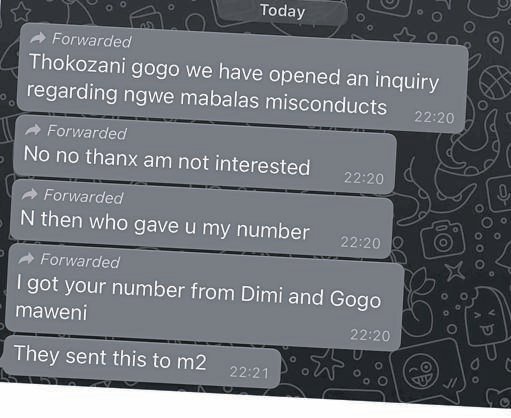 "I bought the house because I had more initiates and it was a happy moment because it was my birthday.
"That was the last day I celebrated anything beautiful. I started getting threats," she said.
But she did not want to reveal who made the threats.
However, according to Gogo Ngwemabala, the threats were not just threats as she was allegedly poisoned by one of the initiatives, who is allegedly working with the people who are after her.
"As a result of the poisoning, my liver is no longer functioning well. For that reason, I'm forever at the hospital in the emergency room," she said.
She said that some of her initiates have been feeding these people information on what is happening in her house and her daily routine, so she had to let them go.
Gogo Ngwemabala told the People's Paper that she also was scared for herself, her child and sibling.
She also spoke about a hijacking earlier this year, where her brother and few of her initiates were held at gunpoint by unknown men.
She said they had gone to buy food and the men stopped the car and pointed guns at them.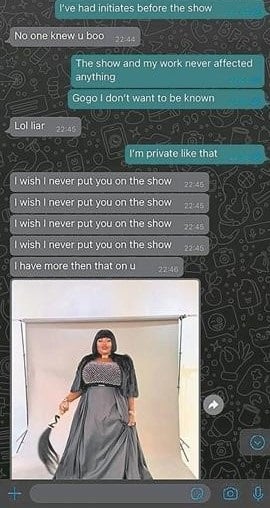 "They had a picture of me and asked them: 'where is this lady? We know she's the owner of the car'," said Gogo Ngwemabala.
She said they managed to escape, but the men followed them and stood by the gate demanding to see her.
Gogo Ngwemabala said that she called the police, but they arrived three hours later.
"They took a statement and told me they usually patrol around my area. They gave me a number to call when I have trouble again and that was that," she said.
She said that one of the culprits was caught and taken into questioning, where he revealed to cops he was working with people from the neighbourhood.
According to Gogo Ngwemabala, who has already moved from the neighbourhood where all these incidents happened, she and her neighbours did not see eye to eye as they complained about noise when she had ceremonies.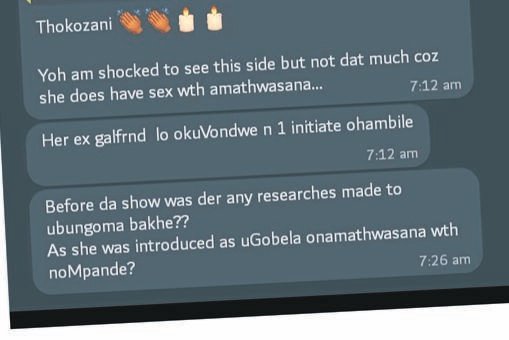 She said in another incident, she and her initiates were robbed by three guys.
"I don't know how we survived that, but they took whatever they wanted to take," she said.
Gogo Ngwemabala revealed that people were trying to tarnish her reputation as they have gone as far as accusing her of human trafficking, as well as not being a qualified professional nurse.
She said she has approached the court for help and was asking security companies to help her.
"This is actually a call for help," she said.
When the publication reached out to Gogo Ngwemabala, she directed the People's Paper to her lawyer Professor Sizwe Snail ka Mtuze.
According to Mtuze, Gogo Ngwemabala has laid a complaint with the police.
"It is our instructions that our client has laid formal complaints with SAPS in respect of various crimes committed against her, including but not limited to attempted robbery, hijacking, theft and attempts to physically injure and/or cause harm to her person.
"Our client refutes all claims that no steps have been taken to have the SAPS institute an investigation into the complaints laid," he said.
Asked about a video clip making the rounds on social media, Mtuze said: "We can confirm there are various defamatory, malicious and unlawful statements and actions being made by various persons against our client in order to cause harm to her good name, dignity and reputation."
He also provided the publication with letters they sent to Dimakatso Raphoto and Sakhile Productions, who were involved in recording of footage for Izangoma Zodumo.
The documents were also directed to Gogo Ngwemabala's co-star Leanne Makgopo, known as Dr Maweni, demanding R1 million for defamatory statements which allegedly include calling Prudence a fraudster, kidnapper and accused her of starving her initiates and s.e.xually harassing them.
When called for comment, Dr Maweni referred the publication to her publicist Simphiwe Majola.
Simphiwe said they were aware of the malicious and defamatory allegations made by Gogo Ngwemabala about their client.
"Our legal and management teams are handling the matter and therefore we are not at liberty to comment at this stage.
"However, we can confirm that our legal team has begun processes for defamation and cyber bulling on behalf of Dr Maweni and her reputable brand which has been slandered."
Simphiwe said Dr Maweni was working on amazing projects soon to be announced, and was also shooting the second season of Izangoma Zodumo, which will launch next month. Gauteng police spokesman Captain Kay Makhubele said Gogo Ngwemabala only made her statement at the police station.