WhatsApp chats: Rea Gopane's mom fears for her life
WhatsApp chats: Rea Gopane's mom fears for her life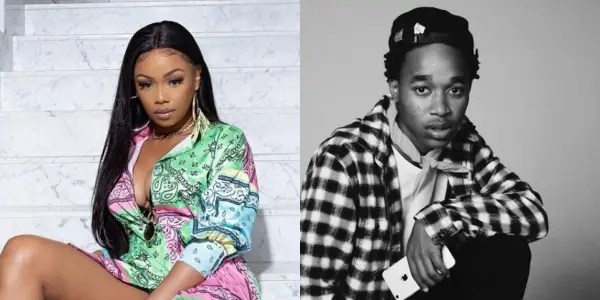 Now that Bonang Matheba's legal battle with podcaster Rea Gopane has been laid to rest, Bonang got motivated to pursue other matters legally. With Rea though, he could not care any less about paying Bonang R300 000 and he is making sure his social media followers know that. But his mother has decided to step in to sort of discipline him.
Rea Gopane of Everything SA Music, shared a WhatsApp message from his mother instructing him to behave on social media because they are suffering the repercussions of his actions.
After a few missed calls, his mother texted him and told him that there was a day she did not think she would wake up because of the drama he is embroiled in. The podcaster's mom asked him to think about them as their parents, before he does something imprudent. All she wants Rea to do is not show the world that he was not raised properly.
"From now onwards, whatever you do on social media please think about us as your parents.. We had the worst week ever (sighs). On Monday I didn't even think I would wake up," she cried. "May you please not give [show] the world that you were not raised well. Please do everything responsibly just to extend our days. I personally have a lot to live for. Tons of love," she wrote.
Rea responded by saying he will always love her.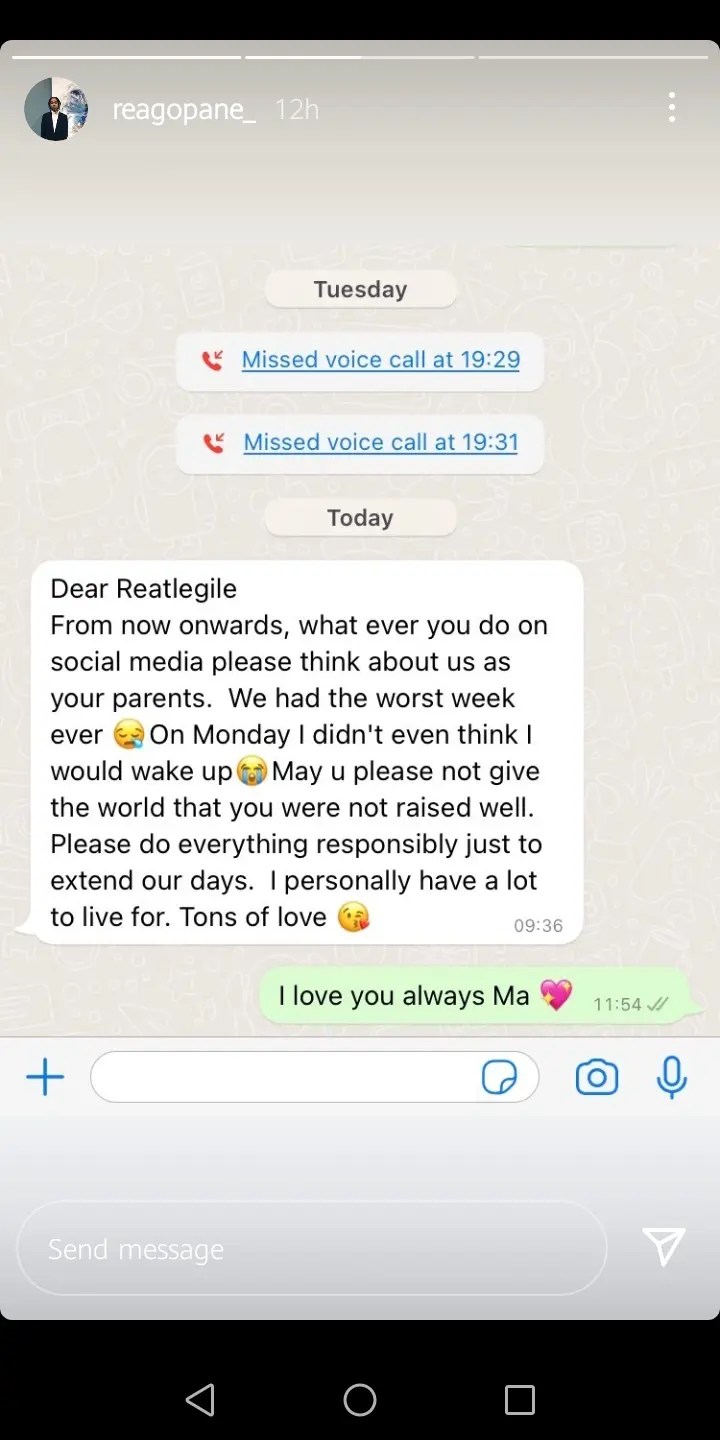 Taking to his social media last weekend, Rea said he would rather burn his mother than pay Bonang anything. "I would much rather burn every single Rand that I will ever make in my entire life than give it to that other queen of yours, literally set it on fire."
He continued that he will excercise his freedom of speech to the limit and will not take anything other people say seriously, because they are not as free as he is.
He continued to take jabs at Bonang and said she is good at deceiving people, "Y'all don't even realize Bonang is just using your sheep behaviour to stay relevant in the eyes of the public. She's great at it no lie but what surprises is how people just keep falling for it."
Bonang on the other hand said she will donate the R300 000 to her foundation, the Bonang Matheba Foundation, to help women who are in similar predicaments as her, who could not actually afford the legal funds.
"After hearing argument relating to the unlawful conduct of Mr. Gopane the court upheld my claim for damages, and in a precedent-setting judgment, ordered that Mr. Gopane pay damages in the amount of R300,000 plus the legal costs of the action.
"It is not my intention to benefit financially from the ruling rather I wish to uplift those less fortunate than me and I will be donating the damages received to my philanthropic endeavour, the Bonang Matheba Foundation, which I established to advance the tertiary education of young women."
She said she hopes this shines the light on cyberbullying and lets others know that it will not be tolerated.
"I trust that this judgment be a lesson to individuals like Mr. Gopane that there are consequences for abusing public platforms to defame and humiliate others.
"It is important that particularly as women our voices are used constructively to ensure that cyberbullying, untrue and inflammatory attack on any individuals reputation are not tolerated."
The end. 🥂❤️ Thank you for all your support. pic.twitter.com/0MqNYgEumz

— Bonang Matheba 👑 (@Bonang) January 28, 2022