What: Qwabe Twins serving couples goals? – Mzansi reacts
What: Qwabe Twins serving couples goals? – Mzansi reacts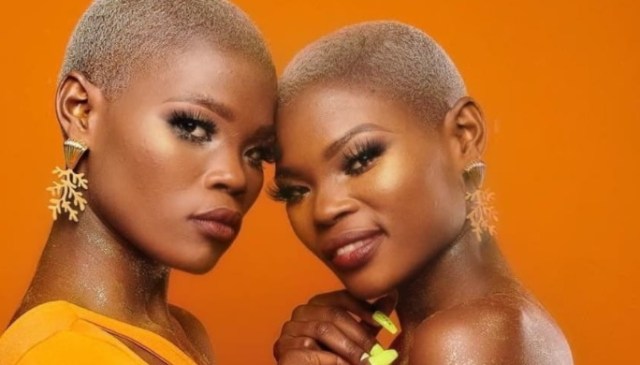 They say that the bond between identical twins is a bond like no other. Often identical twins don't just share the same DNA, they share the same hobbies, the same clothes and often the same interests.
Despite a controversial exit from Idols SA the talented Qwabe twins managed to make a mark in the entertainment industry.
The talented Twins wowed Mzansi with their stellar performances on and after their exit. They have been making headlines ever since. The duo thrust into stardom when they bagged a contract with Dj Tira.
They haven't been in the music industry for long and they are already working their way to the top. The two have a very successful career in music because of how talented they are and a lot of artists want to work with them.
The twins, who controversially exited singing competition and went on to make a hit song Hamba, with DJ Tira.
However, the twins seem to have kept their love lives under wraps but it seems as if the two are a couple. Of late their love lives have been put into question and rumours have made all sorts of rounds on social media.
The two have even fueled the rumours from passionate kisses to cosy steamy pictures. No doubt its something that Mzansi is still yet to find out. The two have rekindled the rumour again after they shared a series all loved up on valentines day. The viral pictures of Qwabe twins added fire to the dating rumours after valentines day today making love perhaps.
The twins celebrated the day of love together. They are seen wearing swimsuits. They captioned their picture "to be yourself is a choice. Happy valentine's day". However, the fans were not
convinced by their caption. One of them asked where their boyfriends were. They replied with laughing emojis.
This is not the first their relation has been put into question. They have rundown the rumours before but Mzansi is not convinced with that alone.
The twins stated:" We have always been like this. We spend a lot of time together as sisters. We are not in a relationship with each other or anyone else and we are not planning to start our own families anytime soon". They also stated that they prefer polygamous marriage when they get married.
Rumours of the sister's sexual chemistry and dating started on SA idols when fans noticed that they hug and kiss each other way more than normal/usual sisters would. They usually showed affection towards each other on stage when they made it through to the next round.
Now they have made it into the industry they have been spotted all loved. Who knows maybe its sisterly love. Here some of the pictures that have put the Qwabe twins love life under scrutiny.