Watch: Touching funeral service of Thando Khunjwa (TD SAGE) who was the driver in Killer Kau & Mpura car accident
Watch: Touching funeral service of Thando Khunjwa (TD SAGE) who was the driver in Killer Kau & Mpura car accident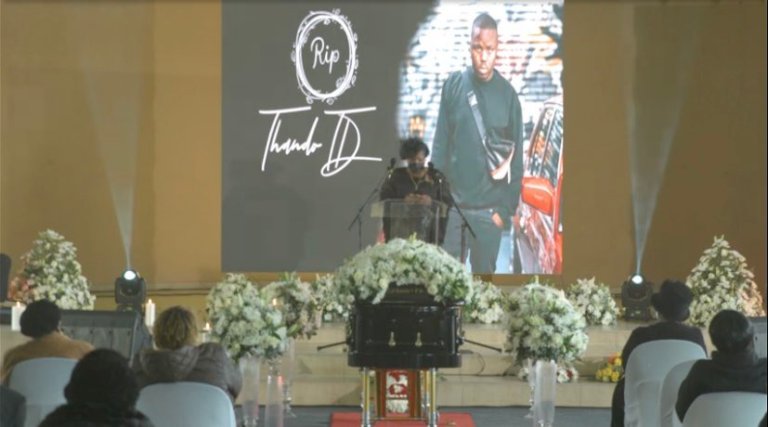 Thando Khunjwa was the last of the Amapiano artists killed in a horrific crash to be laid to rest on Wednesday, 18 August.
The 23-year-old, affectionately known as TD SAGE, was the driver on the night of the accident near Rustenburg, North West.
Speaking during his funeral at Meadowlands Baptist Church in Soweto, his brother Tebogo Khunjwa and father Jeff Khunjwa gave moving tributes.
Tebogo said: "I promise to continue your legacy and add to my collection of sneakers in your honour. I will miss and love you forever big bro."
His father said he drew strength from all the wonderful things people had said about his son.
"I've been listening to people speak about my boy and it lifted me. We were blessed to have such a responsible and respectful son," he said.
Aunt Thando Mthembu read a tribute on behalf of his mother.
"To my boy, little did I know that God would call you home so soon. I lost you on earth, but I gained an angel in heaven. I'm torn to pieces and a part of me left with you. Thank God for giving me such a wonderful son. You died young, but you lived your life," she read.
Gugu Seitlhamo from Soweto Music Entertainment, where TD worked, said it was hard to have lost five members of his team.
"TD made things happen. If he was not there, artists would never get gigs. He did everything without complaining.
"He had three jobs, but helped us do ours. Look down on us and be our strongest ancestor. Nothing makes sense right now, but maybe one day it will. It really hurts."
TD's uncle, Pule Khunjwa, said he used to call him the Khunjwa boy, because he wanted him to be conscious of who he was and where he came from.
Watch: