Watch: Sol Phenduka's dancing has social media in stitches
Watch: Sol Phenduka's dancing has social media in stitches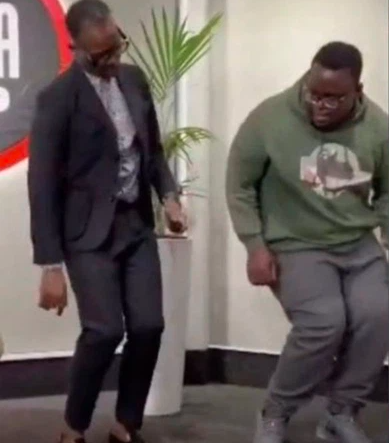 Radio personality Sol Phenduka is entertaining the timeline with his own performance after last week we saw Carte Blanche co-host Derek Watts hit the dancefloor and deliver some dismal dance moves.
But unlike Derek, the Kaya FM breakfast co-host knows he's just not cutting it!
In a clip that went viral on Twitter, Sol Phenduka and Kaya Breakfast show host Dineo Ranaka were seen dancing with muso Zakes Bantwini to one of his hit songs.
Delivering his signature moves, Zakes is seen doing his side-step whilst wearing his suit and some snazzy shades in the studio.
Dineo and Sol join in, but whilst the former kept up with the muso, Sol seemed to be winging it. And even Zakes noticed too. "Come on, Sol", he says through giggles.
Ever the good sport, Sol Phenduka continues to attempt his own interpretation of the dance, adding: "I'm trying!"
uSol akakwazi ukuphenduka 😂 pic.twitter.com/M1M4OCej9o

— 🌺 (@Nonhli9) September 28, 2022
I think dancing isn't my thing . https://t.co/lVmqduiE7C

— Solomzi (@Solphendukaa) September 28, 2022
Weeeeeh pic.twitter.com/euMiIGc6rL

— Athera 🇿🇦 (@Taka_Oyi) September 28, 2022
Sol's feet when he tried dancing. 😭😭😭😂 pic.twitter.com/11OuwWCe5X

— Molatelo Racheku (@TheRealPaniki) September 28, 2022
@BagwellReloaded: "In his head, he was doing it"
@LungaSQ: 'I didn't know that there's someone out there who dances worse than me"
@jefe_sa: "I feel embarrassed on his behalf"
@Hle_ngiwe_: "Sol just made me realize that dancing is really not for everyone"