Watch: Miss SA Natasha Joubert's get-down dance breaks TikTok
Miss SA Natasha Joubert's get-down dance breaks TikTok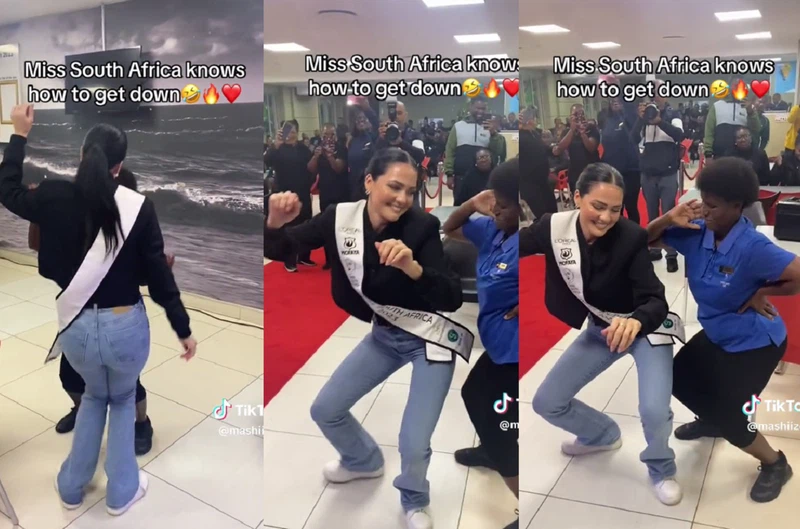 Miss South Africa Natasha Joubert pulled off some get-down dance moves, and the video went viral.
Natasha had not been hiding her emotions and feelings since she won the prestigious crown.
Unlike many before, she does not want to portray a character that is not her; she is being herself, and fans love it.
Even before she won Miss SA, she shared a video of dancing in her room with Bryan Govender.
This time, she was dancing with a random woman, which showed her heart more than anything.
Fans loved that she was a person who could interact with anyone but also noted how good a dancer she was.
MISS SA NATASHA JOUBERT'S GET-DOWN DANCE
They looked as if they were at an event, given that Natasha had her belt and the woman she danced with had a tag.
There was also a red carpet suggesting it was meant for guests like her, all this she did not consider.
When the music hit, she joined the stage, and immediately, the crowd went wild.
She pulled the get-down dance together with that woman and looked comfortable.
@mashiizolo
#misssouthafrica #natashajoubert #wildcoastsun #mampintsha #zulunation #wlosy #trending #drmatthewlani #greenscreen
♬ original sound – Ntandoyenkosi Dlamini
MZANSI REACTS
As Miss SA Natasha Joubert pulled off some get-down dance moves, many fans loved it and cherished her.
"I actually bumped into her at the airport and she's honestly a whole vibe in person ♥️not just another pretty face 🥳"
"@Lance D Richards that dance move reminded me of you 😩😂"
"she's shaking her african heritage 😁you go giro"
"She'll break her knees"
"show me a country like ours there is not🙏🙏❤️❤️❤️🤣🤣"