WATCH: Master KG buys Makhadzi a brand new AMG & books a whole restaurant for Valentines
WATCH: Master KG buys Makhadzi a brand new AMG & books a whole restaurant for Valentines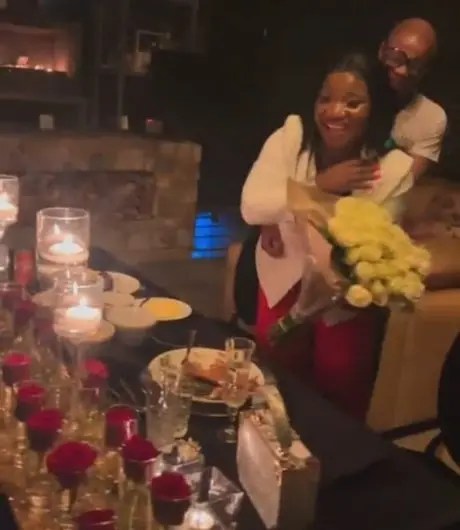 Makhadzi and Master KG's love story is goals. Despite coming through with a late entry into Valentine's day fever, Master KG surely did make a statement.
He surprised his girlfriend Makhadzi with a brand new AMG. The exact model was not specified but all we know is, Makhadzi was gifted with a new car.
I think this car was bought for makhadzi by masterkg as makhadzi s valentine present ♥️♥️♥️ pic.twitter.com/AUngG74bED

— Tshianeo (@kutamatshianeo) February 15, 2022
She revealed this in a series of Facebook stories where she narrated how Master KG planned for their day yesternight.
According to the stories, Master KG asked her out but did not reveal what plans he had for the day. He then surprised her with a car before asking her for an evening dinner.
Makhadzi revealed that her boyfriend went all out and booked a whole 3 star restaurant for the two.
The whole candle-lit restaurant set up screamed nothing but love – and extravagancy.
The beautiful couple has been through it all. Both are from a poor background in Limpopo villages and have helped each other grow to what they are right now in their music businesses.
Their Breakup And Make Up
Their love story has inspired many of their fans who wish to see them growing old together.
Guys vukani master kg booked the whole restaurant for makhadzi 😍😍😍😍 pic.twitter.com/pD13Zs8JZk

— Tshianeo (@kutamatshianeo) February 14, 2022
Love master kg is in love guys ❤️❤️❤️ pic.twitter.com/mq92oOIzfA

— Tshianeo (@kutamatshianeo) February 14, 2022
Master KG and Makhadzi called it quits last year. Their messy public breakup only lasted for a year before they got back together late 2021. They have been together since and continue serving us cute couple goals.
Makhadzi's Business Empire
Makhadzi is one example of black girl magic.
Last week she flaunted a whooping R4 million mansion she had bought for herself without the help of a bank.
This adds on to more than 4 houses she single-handedly bought by cash for her family and herself.