WATCH: Eugene Mthethwa stages one man protest during Mjokes' funeral
WATCH: Eugene Mthethwa stages one man protest during Mjokes' funeral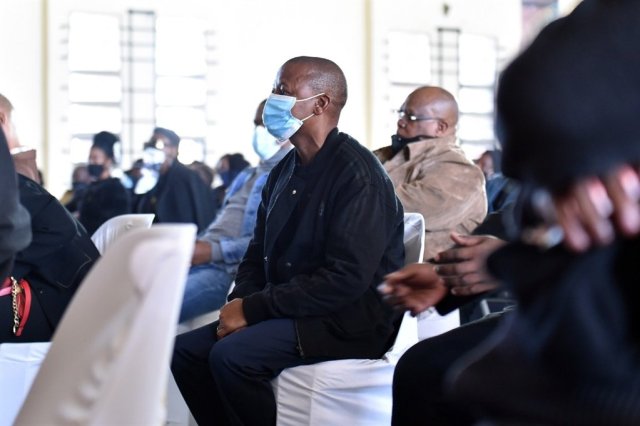 Trompies member Eugene Mthethwa staged a one-man protest during the funeral service of fellow member, Emmanuel "Mjokes" Matsane on Saturday, 29 May.
The programme seemed to be going smoothly for the better part of the service but things went sour when MEC of Sports Arts and Culture Mbali Hlophe took to the podium to pay tribute on behalf of the Gauteng government.
Before she could even utter her first word, Eugene stood up and sang one their classic songs, Sweety Lavo, to prevent the MEC from speaking.
They don't know us. They only know us when we are dead. That is why I'm singing. I will allow (Fikile) Mbalula to speak on behalf of government because Mbalula knew Mjokes, but the MEC doesn't know us," he shouted.
In his singing, he was joined by some of the mourners who had filled the Dlamini Multipurpose Hall in Soweto, where many had descended to remember the late kwato legend.
"Don't be afraid to sing. They don't know us. They're only waiting to come to our funerals. They couldn't give Mjokes the relief fund but today they are here. We are going to disrupt this," he said.
Zynne "Mahoota" Sibika and Jairus "Jaros" Nkwe swiftly took him outside the hall for the funeral programme to continue.
The relief fund issue is something Eugene has been protesting for quite some time.
He even took part in the sit-in staged by several artist at the National Arts Council in Newtown, Joburg.
In February, Eugune protested at the SAMRO officies over royalties.
He even chained himself to a pole there. Meanwhile, Mjokes was remembered as a father who loved his family and was devoted to his job at Kalawa Jazmee Records.
He was also remembered as someone who nurtured young talents.
Mjokes died in an accident in Soweto last week after what became the group's last performance together.
He was laid to rest at Westpark Cemetery on Saturday afternoon.