Watch: DJ Tira spends quality time with his family, wife and kids
DJ Tira spends quality time with his family, wife and kids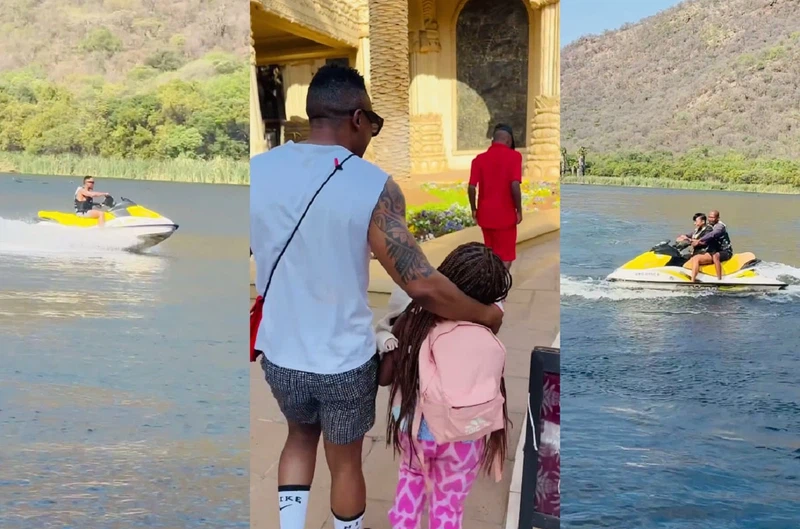 South African record producer DJ Tira spends quality time with his wife, Gugu Khathi and kids.
DJ Tira remains one of the veterans of South African music.
He had been in the game since Kwaito days and had been making so much money along the way.
He also had been one of the few stars of his age to manage a family well.
DJ Tira is married to Gugu Khathi, and they have been together for some time and have a child in Chase Khathi.
\It seemed moments like these were the moments that DJ Tira used to spicy his marriage with Gugu.
Sharing on his Instagram, DJ Tira spoke of his time with his family.
DJ TIRA SPENDS QUALITY TIME WITH HIS WIFE AND KIDS
Usually, DJ Tira spends most of his time in Durban because of work.
Gugu and his children are primarily in Johannesburg, where they are based, but they spend time together.
This time, it was a special day as the family went out for boat cruising.
They enjoyed the experience and used expensive, luxurious care that impressed many fans.
Even though DJ Tira only shared glimpses of his particular time with his family, wife and kid, it looked like they had many activities.
MZANSI CHERISH THEM
After DJ Tira shared his family time video, spending some quality moments with his wife and kid, many fans cherished them.
"Nazoke mbhem niryt ngoba niGroover ningakhohlwa oChichi yena njalo ndoda #Ilembe lethu✊😂❤"
"Kodwa Malume umama bekumele ajabuliswe nguwe , yakho ngoma🔥🔥"
"There you go mbhem are you alright because you are grooving don't forget chichi's he is our @TAG"
"Malume & Ma Khathi🔥🔥🔥Best Couple yeeeer….."
"Ngsaba i nyoka enkulu engaphuma la kuleli damu"