WATCH: Desmond Tutu's Granddaughter, Natasha Thahane Finally Clears The Air On R1 Million Bursary
WATCH: Desmond Tutu's Granddaughter, Natasha Thahane Finally Clears The Air On R1 Million Bursary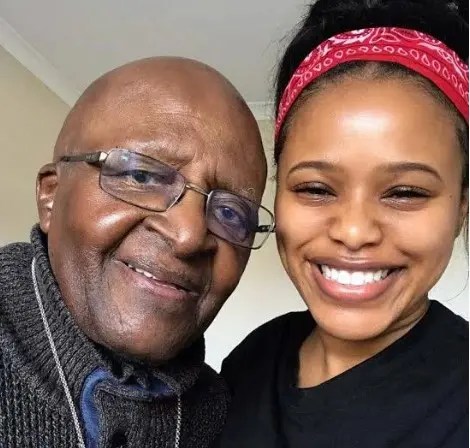 Natasha Thahane has issued a statement via a video to clear the air after claiming she received funding from Baleka Mbete and the Department of Arts and Culture.
The actress who is the granddaughter of Arch-Bishop Desmond Tutu, got dragged this past weekend after she revealed in an interview on Podcast and Chill with Mac G that she was awarded hundreds of thousands of rands to go further her studies abroad in 2017.
She let it slip that Baleka Mbete obtained the funds for her and tweeps were enraged by this. She has since backtracked on her statement and claims she does not have a personal relationship with the politician. The actress ha denied having received R1 million from Mbete or the Department of Arts and Culture.
"I did not receive R1 million from Baleka Mbethe or the department of Arts and culture. If you receive to the interview you would realize that I was taken out of context and before I even go through the process I would profusely like to apologize to Baleka Mbethe and the department of sports and art and culture because when I watch back and listen to the interview it sounds like I have a personal relationship with mam Baleka which is not a case," she said.
She said her first and last encounter with Baleka Mbete occurred after she was coming out of a meeting. She asked for advice after being accepted to study at the NYFA.
" She advised me to explore the department of arts and culture because they have funding opportunities and that was the first and last conversation. She did not make any calls on my behalf," she said. According to her, she obtained R350 000 from the department, and the rest was provided by her family.
Official Statement. pic.twitter.com/HiczveVKC5

— Natasha Thahane (@Natasha_Thahane) November 30, 2021
@Khanyile_BG "These are pure lies she should have just remained silence. When she was busy receiving millions without a due process for studying Art overseas in 2017 students were arrested, teargased by police for fighting to have access in universities via what was know as fees must fall
@MiZz_TooMe "This just made things worse . First of all, you explicitly mentioned in your interview that it was a phone call – now you ran into her? Secondly, bursary funding is limited to R250k. How did you get R100k additional funding? Lastly, in what ways did you contribute to the arts?
@Tembelaniwewe "Your statement won't change the fact that you received a R1ml of funding because you are the granddaughter of Tutu."