Watch: Bontle Modiselle's birthday dance breaks TikTok
Bontle Modiselle's birthday dance breaks TikTok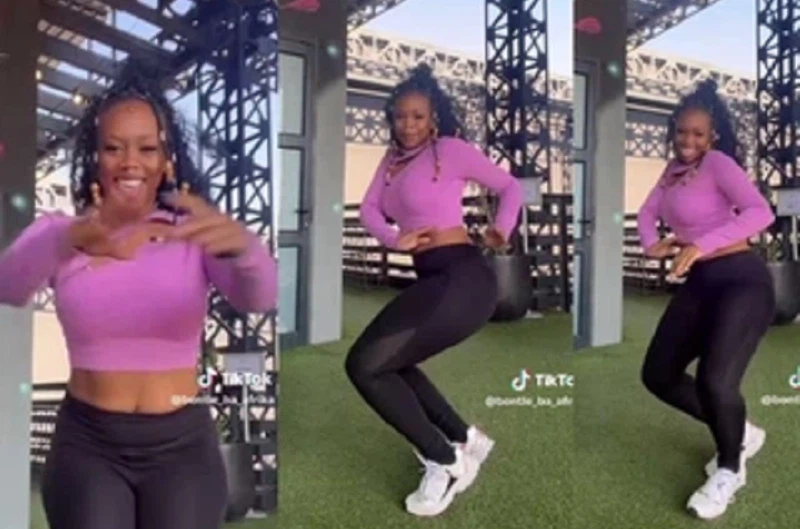 South African actress Bontle Moiselle's birthday dance left fans talking on TikTok.
Bontle had grown to be one of the finest actresses in South Africa and Africa at large.
The bubbly actress celebrated her 33rd birthday on 7 October, a particular day.
Bontle did not share much of her birthday content with fans, unlike many other celebs.
When most fans thought she had ignored it, she pulled off impressive dance moves on TikTok.
She posted the video on TikTok, speaking of the vibes she had, and fans enjoyed it.
"Birthday vibes with le Ntja'ka 🫶🏾"
BONTLE MODISELLE'S BIRTHDAY DANCE BREAKS TIKTOK
Indeed, Bontle showed some great talent in dancing and celebrating her birthday.
She graced the stage in a black and white outfit that impressed many fans.
She had a partner who helped her perfect her moves, and it all looked great and impressed fans.
The two dancers interchange, frequently pointing at each other and doing their tricks until Bontle gets down.
Wishing herself a happy birthday on Instagram, Bontle spoke of new levels, "New age, new level 🎂👑🐝❤️🍰"
@bontle_ba_afrika
Birthday vibes with le Ntja'ka 🫶🏾
♬ original sound – Kamogelo Mphela 🎭
MZANSI REACTS
After Bontle Modiselle shared a video of her birthday dance, many fans loved it, as some wished her well.
"If me and you ever cross. Please don't even think twice. You teach me a dance move gou gou and we make a video 🔥🔥🔥"
"ayikho wrong Lento…kodwa ngabe uthe le ntjaka finish en klaar😂..I love ur content though"
"Someone messed with my head I will never hear this song in a right way 😂😂😂😂"
"When i hear thid sound in my mind this is how im dancing"
"Happy Best day Bontle God bless you with many more years to come and happiness 🥰"