Watch: BASETSANA KUMALO RELIVES HER MISS WORLD CROWNING MOMENT
Watch: BASETSANA KUMALO RELIVES HER MISS WORLD CROWNING MOMENT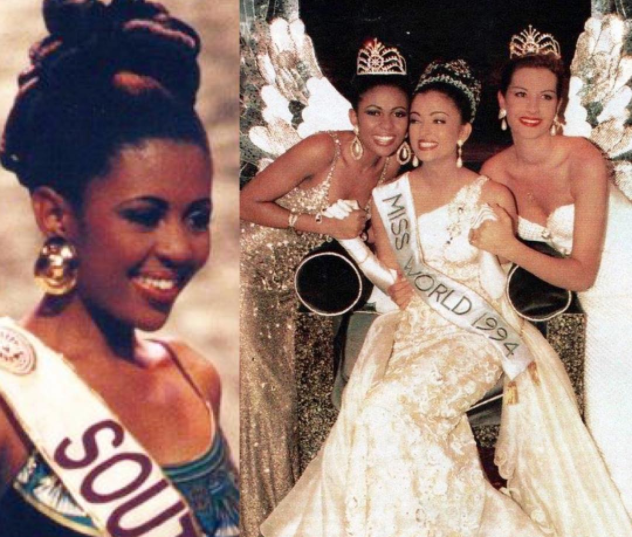 Businesswoman and TV personality Basetsana Kumalo took her fans down the memory lane of her Miss World competition back in 1994.
Basetsana won the title of Miss SA and represented Mzansi at the Miss World competitions that year.
She was crowned as the 1st Runner-up to Aishwarya Rai Bachchan of India who became Miss World 1994 and Venezuela's Irene Ferreira was placed 3rd.
Captioning the Video, Basetsana who is also a former Miss Soweto said she has been emotional watching what she describes as the journey of hope.
"Once upon a time…there was a kid from eKasi Soweto….yazi mara, we were once thin just joking…it so doesn't matter! P.S. Thank you @drgule_ for digging this up….wow…been so emotional watching the Journey of Hope #JOH," she wrote.
Reacting to the video, media personality Somizi Mhlongo thanked Basetsana for taking him back to the good old days.
He responded: "Thanks for taking me back to the day I became a fan…….I watched this live on TV and I was jumping up and down……bazala"
Tamaryn Green who was placed as the 1st Runner-up at Miss Universe back in 2018 also took to the comments section to admire Basetsana, she said she enjoyed watching the video.
"Wow, Bassie. How I enjoyed watching this❤️ you have always been the most graceful, beautiful, kind woman that you are. Taking up space," wrote Tamaryn.
Basetsana was the second South African black woman to win the title of Miss SA after Jackie Mofokeng who won in 1993. She was only 20 years old when she walked away with the title.
Speaking about her experience at the Miss World pageants on Instagram back in 2018, Basetsana said she will forever be indebted for that chapter of her life.
She reposted a post that was originally shared by Proudly South African Beauties.
"On this day exactly 24 years ago gorgeous @basetsanakumalo competed against 86 other women for the 44th Miss World title at the Sun City Superbowl, South Africa," read the post in part.
She concluded the post by sharing what she misses most about those days. She said it was a world-class event that attracted the most important people in the world.
What I miss most about the old days is the absolute glamour and spectacle of the final show and this edition had it in spades! It was a global event that attracted the who's who of the world. It had stature, class, and will be remembered by many as one of the finest, she wrote.