Viral Shembe dancer Mbali Nyandeni spark engagement rumours to a Shembe preacher – Photos
Viral Shembe dancer Mbali Nyandeni spark engagement rumours to a Shembe preacher – Photos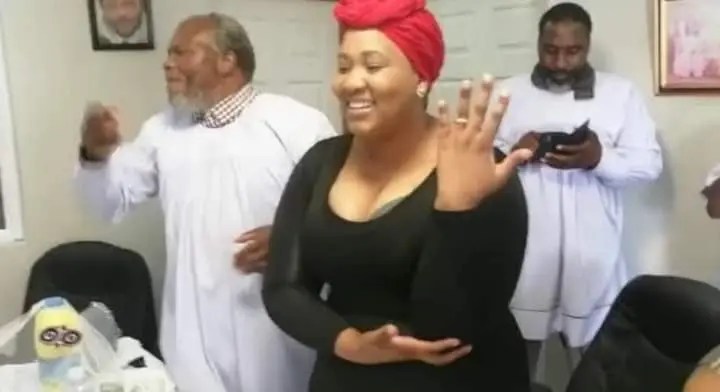 Trendsetter Mbali Nyandeni (24) and Shembe church preachers at Ebuhleni faction took social media for a ride on Thursday, 7 October.
This comes after photos of Mbali wearing a ring on her wedding finger, surrounded by men in church regalia, surfaced on social media.
In a 29-second video, Mbali and the men said she has now been taken off the market by a preacher in this church.
Mbali goes on to show off her "engagement ring" happily.
I am touched by what the EBuhleni church have done to this lady even though I'm aware with the marriage part it's a joke but the fact that she was called to come and join the leadership of the church it means a lot #Shembe Phakama #NyaziLwezulu pic.twitter.com/CX2wcvI726

— 031_Nkululeko (@NkuleLangaSA) October 7, 2021
Social media users started congratulating her.
Makaxolo Mangunezi said: "Congratulations sister. Pastors are indeed truthful when they say God works in mysterious ways. Nobody knew it was going to end up here especially after that embarrassment of you being kicked out of a mass march. Look at you now, you are one happy woman."
Sphume Nyawuza said: "I love you my sister. Wow. I am also going to go and dance with Shembe men, who knows I might be lucky and get mine as well."
Daily Sun called Mbali and she said the engagement part was just a joke.
She said what happened was the preachers called her into the church headquarters.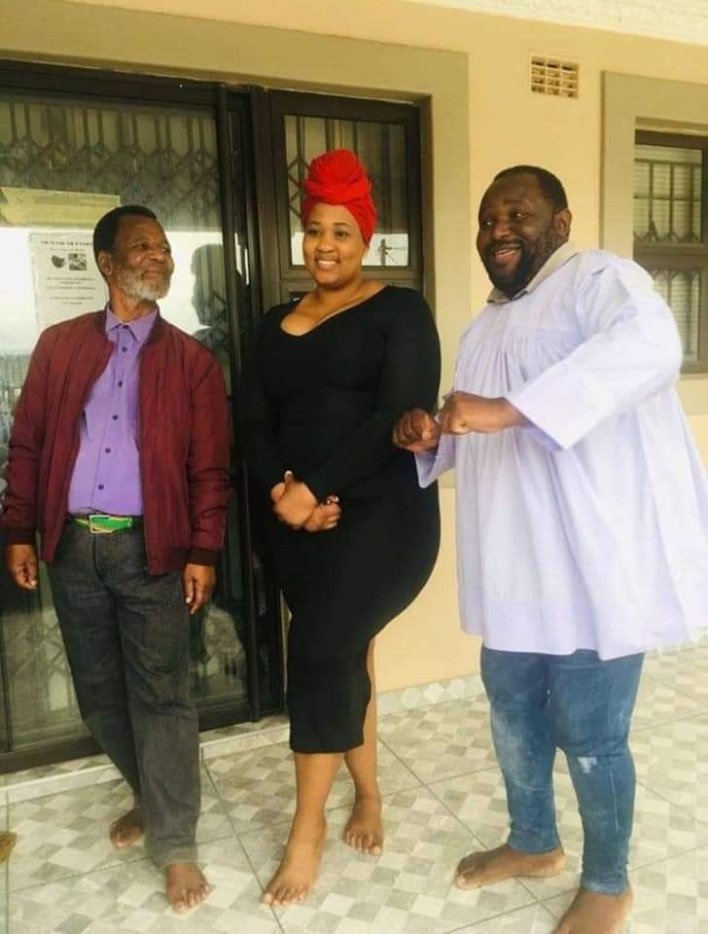 "They tracked me down, got my number and called me. They asked me to come to the church headquarters. They said I may come with my family or friends. We went on Thursday and when we got there we were given a warm welcome," said Mbali.
She said when they got there the preachers apologised for the treatment she got from one of the church members at the march.
"They explained to me that the church does have rules that are strictly obeyed like how a woman should handle herself, where she could dance, how she is expected to dress and so forth. But they said the important part is that those rules only apply when one comes to their temples, not outside," said Mbali.
She said they told her that it was wrong of the church member to chase her away like he did in that video that went viral on social media.
"The preachers filled my heart with such a warm reception. It planted the love I had for the church even more. The picture of that man who kicked out of the march was quickly washed away when I was shown so much love by the preachers at the church headquarters.
"Their reception painted a new picture in me that the church does not have violence towards outsiders who don't go to it just like me," said Mbali.
"The ring part was just a joke because after we had talked and laughed, one preacher said 'During the march you asked if our church members could marry you, you are now being married'. He took his own wedding ring off his wedding finger and put it on mine and there was laughter.
"Somebody took photos and a video and posted it on Facebook and people started talking again saying I have received the marriage I asked for. It is not true. I am not married to any Shembe men. All we did was have fun and we ironed out the embarrassment that happened at the march," said Mbali.
Mbali became the talk of the town at the end of last month when she joined thousands of Shembe church members at a march in the Durban CBD in a dress that showed her back.
While dancing, a member kicked her out of the march. The disappointed Mbali didn't refuse, she left the march.
Many social media users crucified her asking if she didn't know that a woman does not dance among men in this church.
Others pointed that she should have known that there was no way the members were going to allow her to continue marching with them while wearing a revealing dress.
She added that she loves the church and the manner in which they dance.
Church spokesman Thokozani Mncwabe confirmed that there are church rules on how one should handle themselves, but those rules only apply when an outside person comes to their temples.
"Even there you are told nicely that the dress you are wearing is too revealing, you're not allowed to wear like that, and you are supposed tie a doek on your head, no long nails, no make-up, no shoes, a woman doesn't dance along with men and you should kneel.
"But when the gathering happens outside our temples, there is no need to be too strict because some of the people out there really like our church but they have less information about the rules, so it's advisable that when you discipline them do it nicely so that you won't scare them away or paint a bad picture about the church," said Mncwabe.