VIDEO: Pregnant Asavela Mngqithi's dance moves leave fans in stitches
VIDEO: Pregnant Asavela Mngqithi's dance moves leave fans in stitches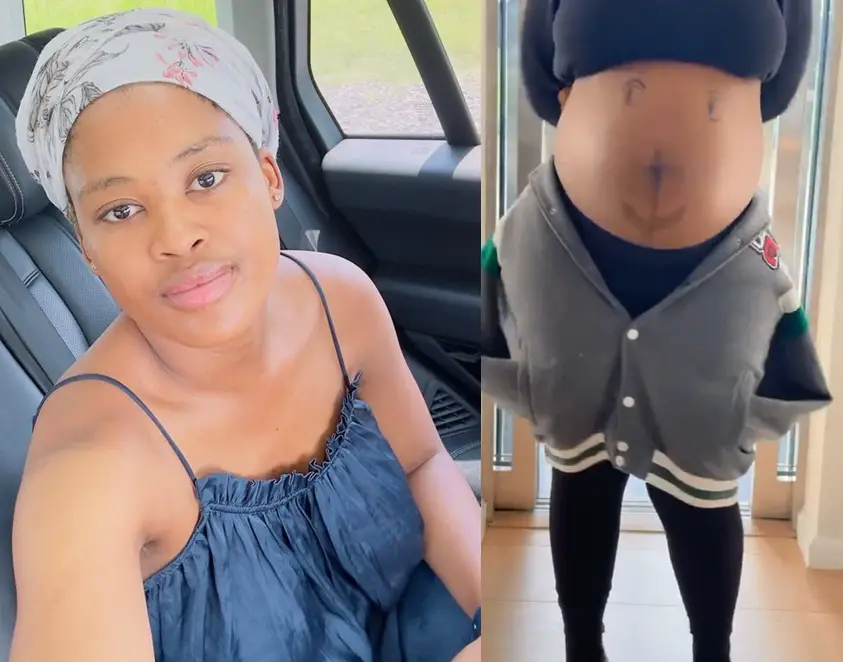 Popular Mzansi pregnant actress Asavela Mngqithi left fans in stitches with her dance moves. The bubbly actress announced a few days ago that she was pregnant, and fans congratulated her.
It seemed Asaveka had been waiting for her pregnancy so much, and she was enjoying herself like ever. Indeed, not many women get to make comedy of themselves and dance while they are pregnant.
Some keep it so sacred that they don't post pictures on social media, but that's not Asavela. Sharing her video on Instagram, Asavela left fans to do the talking as she did not caption it.
The fine actress is a great human being off the screen and can make fans happy all day long.
She drew her pregnancy tummy to look like a cartoon that was smiling.
She approached from the elevator and started dancing, leaving fans in stitches.
All Asavela Mngqithi did was comedy with her dance moves as she showed her happiness.
Watch the video of Asavela Mngqithi's dance loves while drawing her pregnancy tummy.
Here are some of the reactions:
"My wife is a problem . But we love you forever in Bizana❤️❤️❤️ ❤️❤️"
"Ohhh uzawuthi shuuu uPinPin wam❤️"
"It's their house with an elevator for me people are living "
"Lol this is funny, looks like a cartoon character"
"Ayy kuPrege abanye this time oNtwenhle ngiyakukhohlwa uwuHlanyoz"
"Samthandi maan …. Enjoy your pregnancy wena Noyno ♥️"
"Uma nje ungathelelanga ingane ngomsangano uyobe usebenzile"
"Pinpin dropping it low like her aunties"