Video: Entertainment mogul Shona Ferguson laid to rest
Video: Entertainment mogul Shona Ferguson laid to rest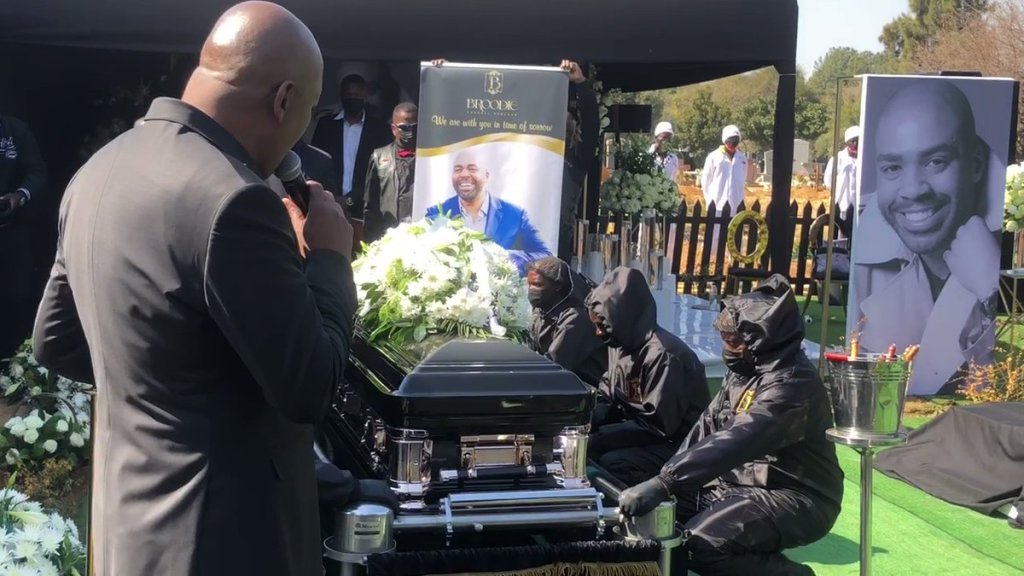 The Ferguson family has said their last goodbyes to the late Shona Ferguson.
Shona was laid to rest today, 4 August, in a funeral that was broadcast virtually.
His family, colleagues, and friends all spoke about how much of a people's person he was.
The actor died last Friday, 30 July, following complications with Covid-19.
Minister of Sport, Arts and Culture, Nathi Mthethwa also spoke at the funeral.
Themba Ndaba, who plays Brutus on Mzansi Magic's The Queen, read his obituary.
His sister-in-law, Lerato Magdalene Pilane said Shona was diagnosed with Covid-19 on 26 June and spoke about how much he struggled with the virus.
Lerato said she helped Connie with taking care of Shona during the time he was sick.
"He was diagnosed with Covid on 26 June. The treatment started at home for about a week. The symptoms changed and on 3 July, he was admitted to hospital in Netcare Pinehaven Hospital and struggled with low oxygen levels because of his weak lungs. I think the Covid affected the lungs. With that struggle, it got worse, and he was moved to high care," she said.
"He seemed to have been better and then he was discharged on 10 July. That evening, he took a turn for the worst and was readmitted on 11 July. His condition started deteriorating. On 15 July, he got really worse and the doctors did what they could from Pine Heaven, but he had to be airlifted to Netcare Milpark Hospital on 16 July where he spent two weeks in ICU," she said.
Lerato said on 29 July, they received a call from the doctor saying they should rush to the hospital.
"We spent the whole night with him and the doctor said he's better. On 30 July, the doctor said we can go back home and freshen up because he was better. As soon as we freshened up, we were called back to the hospital. We got there a bit late and they told us he had passed," she said.
Connie said she never thought she would be burying her husband. They played her pre-recorded message after their two daughters, Alicia Ferguson and Lesedi Matsunyane-Ferguson as well as their grandson, Ronewa Malema left the podium.
"Never in a million years would I have thought I'd be in this position that I am today. Speaking as I am today, without your physical presence. Sho, I thought you and I were going to grow old together. That's what I saw for myself, for us. That's always been the dream and it's always where I thought you and I were going. I never, never anticipated where we are today," said Connie.
"I nursed you for four weeks, 28 days to be specific. I had never known anyone as strong as you, Sho. How I saw you at the hospital, how you fought. Skat, I want you to know that I am so proud of you. I haven't known anyone with your fighting spirit. Even on that hospital bed, skat, you defied the odds so many times," she said.
She continued to say they prayed for Shona's healing when he was in hospital.
"I'm hurting right now. M heart is bleeding. I wasn't ready for you to go. The girls were not ready for you to go. When you became sick, I mean, we've always been a praying family, but I don't think we've ever prayed so much in our lives. We prayed to God and believed in your healing. Every time we went to see you, we would pray with you and for you when you couldn't pray. We played praise and worship songs and just believed God for your healing. I think I'm beginning to understand that God heals differently," said Connie.
Alicia spoke about the relationship she had with her father.
"My father and I had a weird relationship. Some people would swear we hated each other but it was far different than that. I think the main thing was that he and I were so alike in terms of our characteristics, how I look a lot like him," she said.
"My dad has done a lot for me as a person. He motivated me to take bigger steps in life that I wouldn't have taken. He encouraged me to do things that I wouldn't do and I'm very thankful he has enabled me to do that," said Alicia.
Lesedi Matsunyane-Ferguson remembered the first day he met Shona on 31 July 2000 and described the outfit he was wearing. He said from that day he and her mum had been inseparable since.