VIDEO: Drama as Zozibini Tunzi's bodyguard stops Makhadzi from hugging her
Drama as Zozibini Tunzi's bodyguard stops Makhadzi from hugging her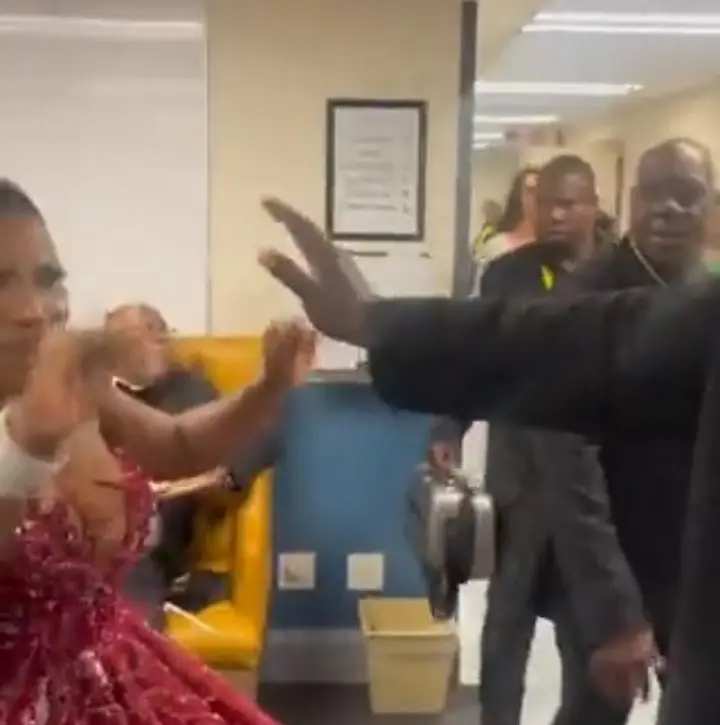 Ex-Miss Universe Zozibini Tunzi is the talk of the town after her bodyguard blocked the musician Makhadzi from engaging with her.
In the video circulating online, the two stars were greeting each other and also having a brief conversation when the bodyguard decided to block them.
Watch here:
Makhadzi meets Zozi and Thuli Madonsela😍 pic.twitter.com/ySfofWC1AZ

— M A K H A D Z I Stan (@Khadzinator) August 15, 2022
Luckily she managed to get a brief greeting and a small hug.
After Zozibini passed, Advocate Thuli Madonsela met Makhadzi and got a brief hug and greeting just like with the former Miss Universe.
The bodyguards were also escorting the advocate but they didn't attempt to stop Makhadzi from hugging her.
Many fans of Makhadzi however noted how the singer looked starstruck and humbled by the presence of these two women.
She was clearly smitten and happy, the genuine of her smile said it all despite getting snubbed by the bodyguard. When he pushed her away she merely respected the order but her aura was still absorbed in that order.
Here are some of the reactions:
Love love Makhadzi! Zozi should have checked her security & set him straight though… haykhona https://t.co/UWyjFpqIqf

— Matshidiso Madia (@tshidi_lee) August 17, 2022
Why does zozi need bodyguards? https://t.co/mM2SjQo5lX

— Zwelakhe Maphanga (@ZakesPrez) August 17, 2022
People saw a 5 second clip and are here saying ZOZI should have checked her bodyguard. You based all that in 5 seconds?? wheeee niyathanda to put people under microscope. she probably did, but you won't know because all you saw is 5 seconds.

— Andiswa (@Andiswa_PLK) August 17, 2022
Zozi was not impressed with him pic.twitter.com/Ar7GskuR9G

— Tumza (@Tumza_) August 16, 2022
Worse cos Zozi moved to HER! Haaibo le bodyguard 😂😂😂😂😂

— Fabergé Egg 💎 (@_Feeyownah) August 16, 2022
Everyone backstage has VIP Access that Bodyguard knew better than to think Zozi would be in any harm why would he shove Makhadzi away like that https://t.co/EIIJku9ByZ

— BadboyF|ames🔥 (@Sakhilenavy21) August 17, 2022
Not him picking the worst time to "work". Mxm Makhadzi is probably more famous than Zozi and this dude does this?? 😂 lol pic.twitter.com/HmQK2zfxkk

— Jollof Princess (@CherrieCoco_) August 16, 2022
Hawu chief, he was simply doing his job. It's up to Zozi to put him at ease. https://t.co/R32NLtGsta

— Don Pentecost ™ (@_NjabuloMkhize) August 17, 2022