Unathi Nkayi under fire for her comment on actress Thembi Seete who replaced her on Idols SA
Unathi Nkayi under fire for her comment on actress Thembi Seete who replaced her on Idols SA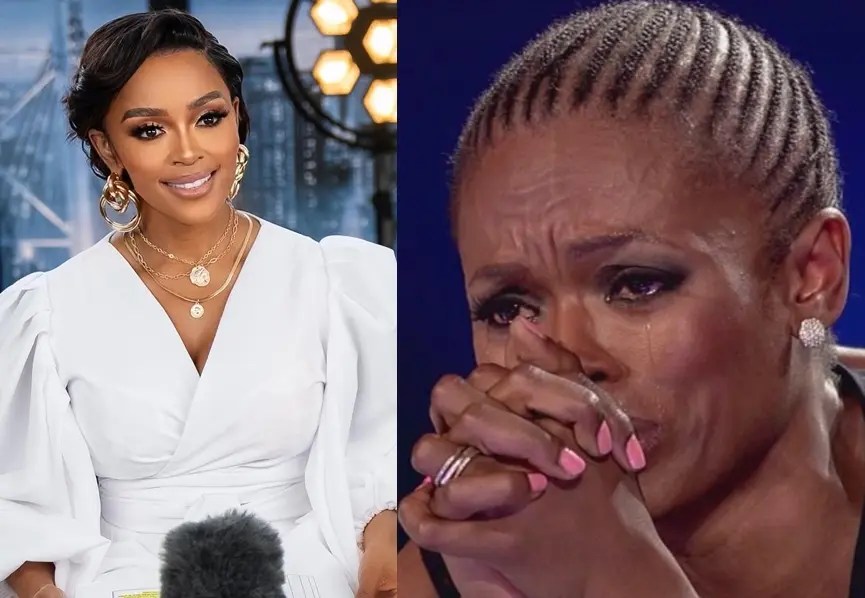 Mzansi TV and radio personality Unathi Nkayi is experiencing just how harsh locals can be and one can't help but feel bad for her.
Idols SA has been riding a wave in Mzansi after revealing that they will replace Unathi Nkayi and Randall Abrahams for a new panel of judges.
The former Idols SA judge recently got trolled on Instagram after sharing some love with one of the talent show's new judges, Thembi Seete.
Heading to Thembi's comment section on a recent post, Unathi shared well wishes but was soon accused of having ill intentions by Themba's fans who earned her to watch out.
The reality singing competition Idols SA introduced Thembi Seete, JR and Somizi Mhlongo as the judges of its 18th season. The show's viewers were not impressed with the decision as they were used to seeing Somizi, Unathi, and Randall as their judges.
With all the pressure the new set of judges managed to impress Mzansi, it's now fair to say that they have filled the big shoes. As Mzansi is getting along with Idols SA's new judges, the former judge Unathi Nkayi is now stalking Thembi Seete, who replaced her on the show.
It's been a rough year or so for singer, TV presenter, and radio personality, Unathi Nkayi who didn't lose one but two jobs.
Unathi was sacked from her radio presenting job at Kaya FM after making false accusations against one of her colleagues Sizwe Dhlomo.
Only a short while later, she was replaced on Idols SA as one of the shows judges.
Her string of not-so-great luck has seen her getting trolled by social media users who sure know how to kick a woman when she's down.
This was proven after Instagramers accused her of stalking the talent show's new judges after she commented on a photo of new judge Thembi Seete.
"Awumuhle ThemThem. Hope you are having fun," Unathi wrote underneath a photo of Thembi while at the Idols SA studios.
This was after Thembi Seete had shared her pictures on Instagram, giving her fans a sneak peek of what happened behind the scenes at Idols on the previous day. She complimented her photos with a grateful caption; she wrote:
"Always have an Attitude of gratitude❤️✨🙌🏾
Last nite @idolssa on @mzansimagic channel 161 always #magical"
Mzansi reacts to Unathi's Comment on Thembi Seete's post
Unathi's comment on Thembi Seete's post received mixed reactions from Mzansi. Fans noticed that Unathi is desperate, and she hopes she gets her job back.
Another comment commented: "Are you really happy she is on Idols, or you're stalking her? Mami, you need to accept that you and Idols SA are history and move on with your life."
While others were happy that Unathi is supporting Thembi Seete: "Ladies are supporting each other, and we are winning. The highest level of maturity"
Unathi was fired from Idols in January 2022, and she confirmed her exit on her Twitter. Judging from her comment when she exited Idols, Unathi wasn't ready to kiss goodbye to the show, but fate decided otherwise. Taking to Instagram, she said:
"Oh man! Thank you for your love South Africa and our beautiful continent of Africa. Please allow me to honour you. You have been kind, loving and deeply invested. Truly the real energy and heartbeat of a wonderful wave of hope and dreams coming true on Idols and as you do that, you have made my dreams come true too. THANK YOU.
"To every contestant who stood in front of us. From the ones brave enough to share with us their hopes. I don't take lightly the act of doing that for the world to see. An honour I will always hold. Thank you for trusting me as one of your judges. To those who unleashed a new level of my tears, heavily pregnant with Baby Idols garnering for Wooden Mic, thank you for the laughter and joy…"