Uhuru Gets Another Job After Taking Over EAC
Uhuru Gets Another Job After Taking Over EAC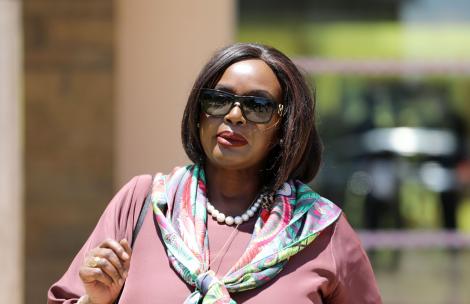 President Uhuru Kenyatta has landed another crucial role in the African Union just days after taking over as East African Community Chairman.
President Kenyatta will be starting his term as the Chairperson of the African Union Peace and Security Council on Monday, March 1, Foreign Affairs CS Raychelle Omamo announced.
The AU PSC is a decision-making organ that deals with the prevention, management and resolution of conflicts.
Foreign Affairs CS Raychelle Omamo at Kenya School of Government (KSG), Lower Kabete in Kiambu For a Consultative Devolution meeting. Thursday, February 20, 2020
Simon Kiragu
It is a collective security and early warning arrangement intended to facilitate timely and efficient responses to conflict and crisis situations in Africa.
It is also the key pillar of the African Peace and Security Architecture (APSA), which is the framework for promoting peace, security and stability in Africa.
President Kenyatta's term at the AU PSC coincides with Kenya's membership at the United Nations Security Council, which CS Omamo says will help Kenya push its agenda at both the regional and international levels.
US President Joe Biden, in a phone call to Uhuru also discussed the importance of security and peace in Africa, thanking Kenya for its role in stabilizing the Horn of Africa.
"He (Biden) also emphasized the United States' continued commitment to working closely with Kenya to support regional peace and security, including at the United Nations Security Council," read a statement from The White House.
During Uhuru's speech at the United Nations Security Council Open Debate on February 23, he said that global peace is threatened by illicit financial flows, terrorism, poverty and climate change.
President Kenyatta stated that Kenya's priorities at the UNSC would be to tackle climate change and security.
"Another important, and prompt, action that the UN Security Council can take to boost peace and security in the most fragile regions in Africa is to act strongly against illicit financial outflows, illicit resource exploitation, terrorism financing and money laundering.
"Doing so immediately boosts the resources available to the government to undertake climate change mitigation and offer the public services and goods needed to consolidate and protect peace," he spoke.
President Uhuru Kenyatta speaking at UN Security Council Open Debate on February 23, 2021