Tyla sizzles in her first live TV performance
Tyla sizzles in her first live TV performance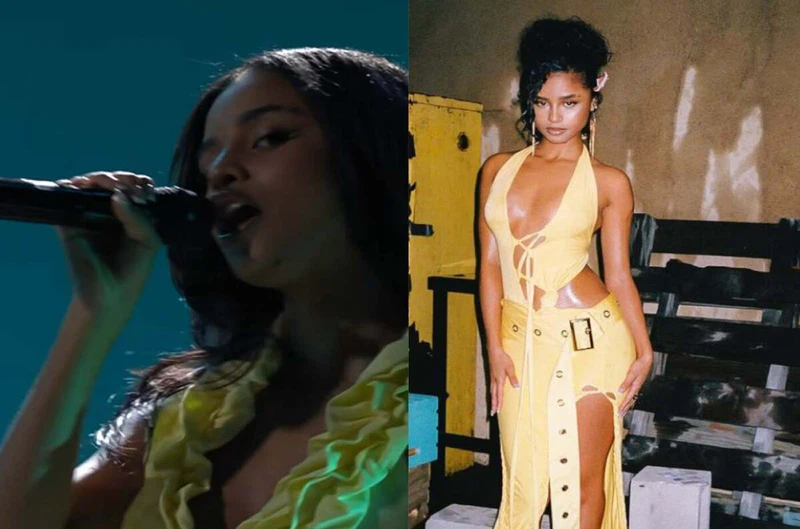 The South African music scene has been ignited by a rising superstar, Tyla, whose journey from local sensation to international fame has been remarkable. Her historic debut on the Billboard Hot 100 chart sent shockwaves throughout the industry, and her recent appearance on the Swedish talk show 'Bianca' has only added to her growing stardom.
TYLA'S INTERNATIONAL STARDOM
Tyla's rise to international stardom has been nothing short of meteoric. Following her groundbreaking debut on the Billboard Hot 100 chart, the 21-year-old singer has been making waves on a global scale. Her appearance on 'Bianca,' a Swedish talk show, marked another milestone in her career.
Tyla is who Ayra Starr thinks she is.

— D3M1👨🏾‍💻🩺 (@_dhemii) October 11, 2023
This achievement not only showcases her immense talent but also opens doors for South African artists on the international stage. Appearing on 'Bianca' was a significant moment for Tyla.
TYLA ON BIANCA
It provided her with a platform to share her music and story with a wider audience.
Tyla's international recognition can be attributed, in large part, to her hit song 'Water.' She expressed her unwavering belief in its potential when asked about the song during her 'Bianca' interview.
BRUH WHAT IS HAPPENING… @tyla 😫🥹🙈💗✨ pic.twitter.com/QWqtiXSxtt

— itsRAFFY! CAN ONLY BE SEEN AT SOLD OUWT SHOWS! 😈 (@_itsraffy) October 12, 2023
What started as a personal favourite quickly turned into a global sensation as renowned artists began promoting it on social media. Her performances in places like Rwanda helped the song reach an international audience, underlining her talent as a singer and songwriter.
PROUDLY SOUTH AFRICAN
One of the aspects that set Tyla apart in the entertainment industry is her commitment to her South African identity. In the 'Bianca' interview, she proudly maintained her South African accent, dispelling any notions of trying to conform to international standards.
Tyla becomes the first South African artist to surpass 10 million monthly listeners in Spotify history. pic.twitter.com/mOXRz4pv2L

— chart data (@chartdata) October 9, 2023
This authenticity resonates with fans and shows that one can achieve global success without compromising their roots.
SOCIAL MEDIA
Clips from Tyla's 'Bianca' interview quickly went viral on social media, with fans and fellow artists praising her authenticity and talent. This social media frenzy not only speaks to her growing popularity but also highlights the power of social media in propelling artists to international fame.
Tyla's story is proof that authenticity and talent can capture the hearts of audiences worldwide.
HIT SONG
Tyla's international stardom, her appearance on 'Bianca', the success of 'Water', her commitment to her South African identity, and the social media buzz surrounding her all indicate an artist on the cusp of a remarkable career.
As Tyla continues to break boundaries and inspire others, it's clear that her journey is one worth watching.