Tshepi Vundla's Broke Girls Comment Lands Her In Hot Soup
Tshepi Vundla's Broke Girls Comment Lands Her In Hot Soup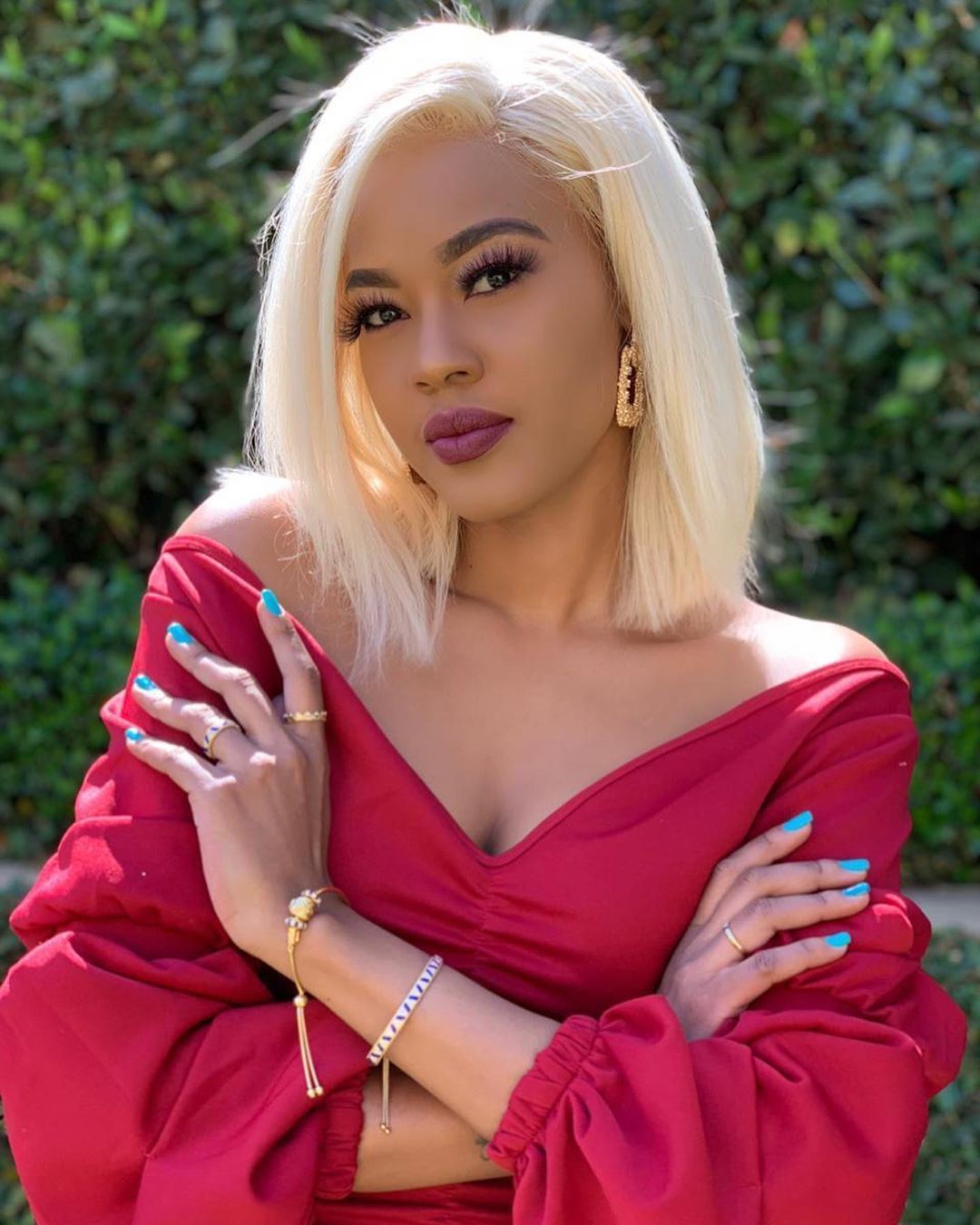 Tshepi Vundla is currently getting bashed on social media after she made an "insulting" comment about women who eagerly want men to do stuff for them. The socialite who is currently in a 'vat en sit' relationship with her baby daddy rapper JR, saw hurls of insults directed at her when she made a few offensive comments about broke women.
Tshepi Vundla was a guest a YouTube podcast, under Mac G's podcast, On The Table which is hosted by Tshepi Mabs, DJ Black Velvet, a woman who names herself church girl and the Ghost Lady.
On the season finale they spoke about various topics but the one which ruffled feathers was when they touched on the SBWL trend which has been popularised mostly by women. SBWL is an acronym for sayibaweli which is a Xhosa word for 'craving.'
Now, the ladies bashed women who constantly SBWL things and expect men to provide these things for them. Then Tshepi asked why can't these women who always sbwl baecations and the latest iPhones just ask their parents to do that for them or better yet do it for themselves.
"Where are your parents, can't you buy these things for yourself, but you expect men to do these things for you." The Ghost Lady added that the worst ones are those who SBWL KFC, and the panel laughed.
Then the DJ, who goes by the name Black Velvet advised men to run away from broke women, "I still maintain guys run away, run as fast as you can from a broke girl that's constantly wanting money from you but can't put sh*t on the table."
Sembi ke😬 pic.twitter.com/a5uN56XfvU

— Zahra (@Nanazille) September 12, 2021
In another clip, Tshepi Vundla can be heard apparently shaming sex workers after the Ghost Lady slammed women who expect to receive some sort of special treatment because of their looks.
💀💀💀 pic.twitter.com/xSZSiFEEhp

— Bless ✨ (@MissRapotu) September 13, 2021
This episode premiered on September 1 but the panelists are catching smoke a week later after users shared that one clip.
Instead of social media users bashing the entire group of women, they targetted Tshepi Vundla because she is more well-known than the others. And because she is dating a "has been" rapper JR, who they have concluded is broke and struggling. A few users trolled Tshepi by saying she probably provides for JR hence the need to bash women who get provided for, saying she yearns for that type of treatment.
Here are the reactions:
Tshepi Vundla trended when JR was a guest on Mac G's podcast and let people in on their private affairs. Many people had assumed that they are married but JR clarified that they are not married they just live together with their son Simba. Vat 'n sit is a relationship where partners cohabitate but are not married. This is the case with Tshepi and JR, who are parents to a beautiful baby boy. Although they are living together without being married, the possibility of marriage is pretty high.
I think nawe Tshepi you can agree ukuthy "sbwl" doesn't mean ufuna emadodeni. https://t.co/0TlHDPH4HG

— Oops Child (@stillpopp) September 13, 2021
That time Ave NgiRight ngihlushwa ukubaBroke🤣💔 https://t.co/pN6ymoOzt1

— uNdlunkulu👑 (@Slungy_luh) September 13, 2021
Tshepi Vundla ngumXhosa and she knows what ubawela means…. now what does it have to do with a man getting it for you? Semuncu nxa bebonke https://t.co/wAWumjz0wd

— uBusi (@Busi_LV) September 13, 2021
For grown women to sit around a table kiking and perpetuating the stereotypes peddled by men is disappointing but genuinely not surprising.

Tshepi Vundla&Co had a platform and THAT is the conversation they chose to have?
In 2021?

Aluta continua.

— ✨the midnight gospel (@khanyisile_____) September 13, 2021
LOL. Tshepi Vundla says if you're gonna SBWL a vacation or hot wings, either have money to pay for it yourself or ask your parents. Yini e wrong lapho? Nidakwa kabuhlungu nina.

— Naledi❤️ (@Maphupho_Amahle) September 13, 2021