TSEPO TSHOLA'S SON BREATHES FIRE OVER RASTA'S PORTRAIT OF HIS FATHER
TSEPO TSHOLA'S SON BREATHES FIRE OVER RASTA'S PORTRAIT OF HIS FATHER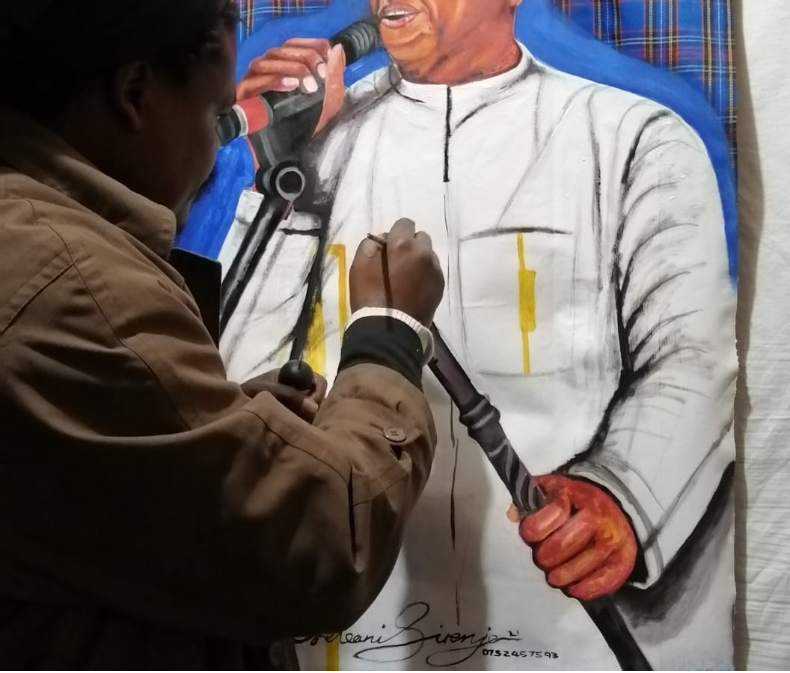 Rasta is at it again and this time, he hit a nerve.
The controversial artist known for his paintings has done a portrait of late Village Pope Tsepo Tshola, honouring his work through his art.
While Rasta was happy with his own work, Tsepo's son Katleho was not pleased.
He took to Twitter and posted a beautiful portrait of his late father, showing Rasta how his father should look.
"Somebody tell Rasta this is my dad, not whoever he was drawing. I'd also like to thank the artist who drew this, you did great and bless your beautiful heart," he said.
As always, social media users don't see any resemblance in Rasta's art.
"I thought as a country we agreed that someone must go and steal Rasta's paint and brushes. How is he still doing this? Jokes aside, this is really annoying," said Simo Mdakane.
Kelly Zwane said Rasta was disrespectful and the sad part was that he didn't see anything wrong with his behaviour.
"He's been doing this for years and no matter how people bash his work, he continues. He's persistent in disrespecting the dead," Kelly tweeted.
Sbusiso Makhathini even suggested that if the artist got a Covid-19 vaccination, maybe his work would be better.
Lindsey Mokoena said the first mistake Mzansi made was to entertain Rasta when he started painting.
"We should have kept quiet because it seems like the more we laugh or try to discipline him, the more we empower him. He's annoying and this really needs to stop. It's disrespectful," said Lindsey.
RIP Pastor of African Pop Music 'Village Pope'.#TshepoTshola #RIPTshepoTshola pic.twitter.com/YhqPJMPjly

— Rasta The Artist (@RastaArtist) July 23, 2021
Somebody tell Rasta this is my Dad not whoever he was drawing…..🙏🏾 I'd also like to thank the artist who drew this 💪🏾🙏🏽you did great and bless your beautiful heart pic.twitter.com/gW0I4oKX0H

— Katleho (@katlaw773) July 25, 2021
RIP Pastor of African Pop Music 'Village Pope'.#TshepoTshola #RIPTshepoTshola pic.twitter.com/YhqPJMPjly

— Rasta The Artist (@RastaArtist) July 23, 2021
RIP Pastor of African Pop Music 'Village Pope'.#TshepoTshola #RIPTshepoTshola pic.twitter.com/YhqPJMPjly

— Rasta The Artist (@RastaArtist) July 23, 2021