Touching: Kuli Roberts' children and sister break at her memorial
Touching: Kuli Roberts' children and sister break at her memorial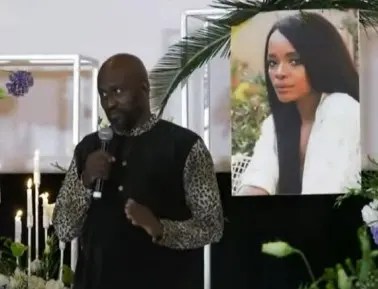 Family and close friends of the late media personality Nomakula "Kuli" Roberts gathered at the Birchwood Hotel on Wednesday to honour her life.
The Queen actress and mother of two passed away last Wednesday (9 February) at the age of 49 years.
Watch the tributes here:
The family and friends of Kuli Roberts took turns to pay tribute to the star at her memorial service this morning.
Her actress sister – Hlubi Mboya confirmed her passing in a statement last Thursday afternoon.
"It is with profound regret and sadness that we confirm the untimely passing of our dear daughter, mother, grandmother, sister, and aunt Nomakula 'Kuli' Roberts."
"Kuli leaves behind her two children, her beloved grandchild, her parents, and three siblings."
She is survived by her children, Tembela and Laeun Roberts, her grandchild, her three siblings, as well as her parents.
The Roberts and Mboya families said they were deeply thankful for the immense support from across the nation over the past few days.