TK Nciza who cheated on Mafikizolo's Nhlanhla marries 'side chick' Lebo Phasha
TK Nciza who cheated on Mafikizolo's Nhlanhla marries 'side chick' Lebo Phasha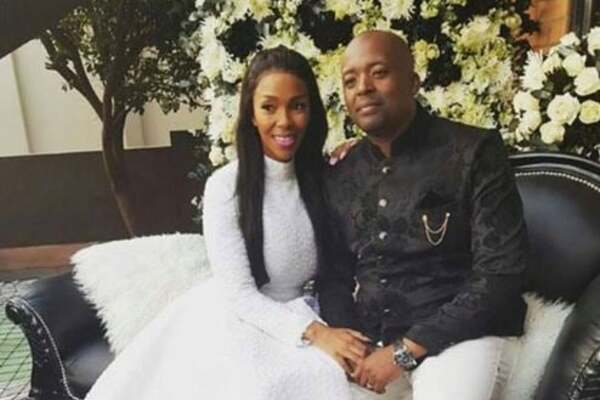 – TK has since taken the relationship to the next level
– Lebo and TK have been seeing each other for a few years.
Thembinkosi 'TK' Nciza is officially off the market again.
TK Nciza who is ANC Gauteng secretary and former music industry executive proposed to his partner and entrepreneur Lebo Phasha last year revealed he sent his uncles over to Lebo's home to unite families for lobola negotiations.
Speaking on his new marriage, TK says that a family unit is one of the most important things for him. "Family helps to ground one's character. Even the Bible says, "He who finds a wife, finds a good thing. I am a very private person, I can't share all details, but I am happy," he says. "It's important to have a good, healthy family structure, especially when one is in politics."
TK Nciza was married Mafikizolo member Nhlanhla Mafu and announced their split in 2019,
"After almost 15 years of our strong bond of marriage, my husband TK Nciza and I have come to a tough but amicable decision to bring an end to our union. I am thankful for the support we have given each other over the years while raising our children. We shall remain on good terms and continue our endeavour to be great and exemplary parents to our children," Nhlanhla said in a statement.
While announcing on Twitter that their marriage had finally reached its end, Nhlanhla Nciza did not state any reason why they were divorcing. Yet, Mzansi did not waste time pointing fingers at TK's alleged infidelity, as he was reported to be cheating on his wife.
Even though no evidence was given at the time, South Africans claimed that a lady known as Lebo Phasha was behind the failed marriage. Allegations leveled were that Lebo and TK had been having an affair for many years before the union came to an end. Some claimed they had been together since 2015.
Interestingly, TK pays lobola for Lebo Phasha making the cheating claims true. Apart from the Lebo Phasha factor, some speculated that the couple had probably been having issues since 2013, which had affected Nhlanhla.
The Mafikizolo member has also since moved on.
Nhlanhla took to social media to share pictures of her new partner and his children. In a series of Christmas-themed pictures, she covered her new man's face and his children in the images.