Thuso Mbedu poses in a family photo with A-list celebrities
Thuso Mbedu poses in a family photo with A-list celebrities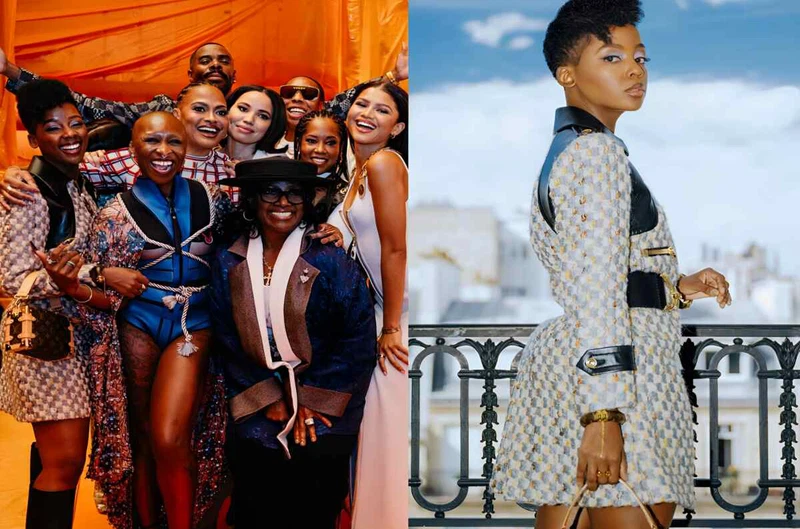 In the glitzy realm of high fashion, where every red carpet appearance serves as a canvas for making a bold statement, Thuso Mbedu emerges as a true style icon. In a recent Louis Vuitton family photo that has set the fashion world abuzz, Mbedu not only commanded attention but also solidified her status as a fashionista to watch.
THUSO MBEDU AND THE SNAP
The Louis Vuitton family photo event, held in anticipation of the brand's runway show, witnessed a constellation of A-list celebrities, including Thuso Mbedu, converging for an unforgettable snapshot. The image encapsulates the essence of elegance, style, and sheer star power.
And among those prominently featured in this iconic picture, Thuso Mbedu stands out as a captivating fashion luminary.
Thuso Mbedu x Louis Vuitton.

Dolly / Mass Country pic.twitter.com/Fs02NgZMxa

— Black Stone DNA (@BlackStoneDNA1) October 4, 2023
BIG NAMES
As the camera clicked, a jubilant 'family' echoed, and the celebrities in the frame radiated joy, and an undeniable sense of belonging.
Among them stood some of the most distinguished names in the entertainment industry, including Cynthia Erivo, Ava DuVernay, Jurnee Smollett, Regina King, Lena Waithe, and Zendaya.
All photos snapped by Austin Malema 📸 pic.twitter.com/vXVwfuyWmz

— тнU§σ Mвє∂u (@ThusoMbedu) October 4, 2023
Each of these luminaries contributed to the photograph's allure, but it was Thuso Mbedu who emerged as the showstopper for the people in Mzansi.
ZENDAYA AND THUSO
Thuso Mbedu's presence in the Louis Vuitton family photo underscored her impeccable taste and her knack for effortlessly melding timeless elegance with contemporary fashion.
Adorned in an ensemble that oozed sophistication and glamour, Mbedu radiated poise and confidence.
Another showstopper, Zendaya, renowned for her daring fashion choices, shared the frame with Mbedu. The joint appearance was a convergence of fashion brilliance.
Zendaya arriving at Louis Vuitton ss24 show. that body TEA pic.twitter.com/T4qxLnvBPg

— sam (@pinkmochhi) October 2, 2023
FAMILY PHOTO
The Louis Vuitton family photo stands as a testament to the brand's remarkable ability to bring together individuals who excel in their respective fields and share a profound appreciation for fashion, style, and creativity.
Thuso Mbedu's central role in this photograph underscores her growing influence in the fashion world, cementing her status as a genuine international fashion icon.
AFRICAN TALENT
the Louis Vuitton family photo captures a moment in time, showcasing the beauty and influence of unity and style. Thuso Mbedu, alongside her esteemed counterparts, has become a symbol of timeless elegance and an inspiration for fashion enthusiasts worldwide.