"This is how Kelly Khumalo killed Senzo Meyiwa using Chicco Twala's gun"
"This is how Kelly Khumalo killed Senzo Meyiwa using Chicco Twala's gun"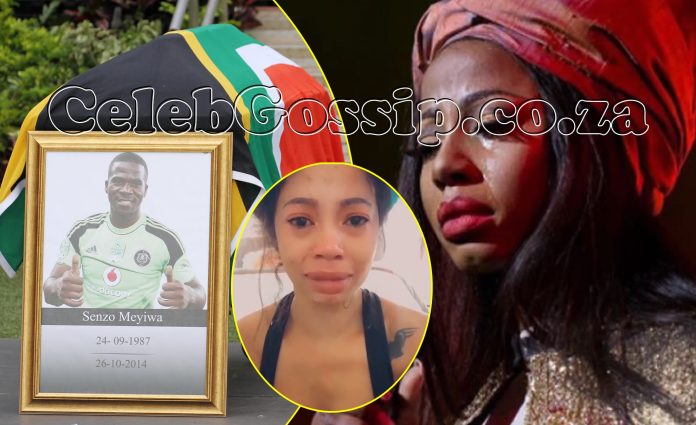 It was Longwe Twala who brought the gun that killed Senzo Meyiwa in the Khumalos' Vosloorus home in October 2014, but it was Meyiwa's girlfriend, songstress Kelly Khumalo, who accidentally pulled the trigger.
This is the version of Tshepo Thobane, the defence lawyer of four of the five men who are on trial for killing the football star.
Thobane submitted to the court that his clients had nothing to do with Meyiwa's killing. Instead, it was people who had shared a meal, drunk and watched soccer with the football star on that fateful night who were behind his killing.
Cross-examining Meyiwa's best friend, Tumelo Madlala, in the high court in Pretoria on Thursday, Thobane said there was a witness who would testify that there was a fight before Meyiwa was shot and people were heard arguing.
Madlala was among those who were present in the house that night.
"That's a lie. The witness can come forward and testify," said Madlala.
He remained adamant that what he told the court was what he saw that night. It was his version that he, Meyiwa, Longwe, Mthokozisi Twala, Kelly Khumalo, her sister Zandi, their mother Ntombi and Kelly's two minor children were in the house that evening when two intruders burst in, demanding their valuables.
It was Madlala's version that Longwe Twala had bolted out of the house, Kelly had run to the bedroom and Zandi and her mother had beaten one of the accused while Meyiwa wrestled with another.
The gunshot went off and Meyiwa was injured as the attackers fled.
"I was in the house, I never saw [the fight]," Madlala said.
According to Thobane, when Longwe came into the house, an argument ensued and he pulled a gun and tussled with Meyiwa. Longwe was at the time in a relationship with Zandi.
Madlala was caught laughing a few times as Thobane made his submissions during cross-examination.
"Don't laugh, sir, we are dealing with a serious matter," Thobane reprimanded him.
Thobane said the two tussled, and Meyiwa took the gun from Longwe and gave it to Kelly.
"It's a lie. That is something that's made up," Madlala said.
Thobane further said Kelly wanted to give the gun back to Meyiwa and that is when it went off and hit Meyiwa at close range.
Madlala again disputed this.
"That thing never happened. When the firearm went off, Longwe was not in the house, he ran out," said Madlala.
Earlier, Thobane had made startling revelations that Meyiwa, who was in a relationship with Kelly and had fathered a child with her, was also in a sexual relationship with Kelly's sister Zandi.
Thobane said he was not privy to this information but did not deny it was possible, saying Meyiwa "loved women".
As cross-examination of Madlala unfolded, Thobane accused Madlala of being an evasive witness.
He painted a grim picture of the supposed good friendship Madlala claimed to have had with Meyiwa. This after Madlala revealed he had sold personal pictures of Meyiwa that he had to the media. He also said he had received payment to feature in a Netflix documentary on Meyiwa that aired just before the trial.
Thobane further accused Madlala of trying to close loopholes in his testimony and further alleged that Madlala had been paid to testify in the trial.
This is as Madlala failed to answer some of the questions and blamed this on the time which had lapsed since the incident.
Madlala insisted that the person who had wrestled with Meyiwa on that night was one of the five accused who sat in the dock. He pointed at the second accused, Bongani Sandiso Ntanzi, and told the court how he vividly remembered how Meyiwa had pinned him to the wall before Meyiwa was shot.
Madlala said he had himself thrown a punch at Ntanzi.
Madlala denied allegations that on that night, someone stopped him from communicating with Meyiwa's brother, Sifiso. This was after he had called him to tell him about the shooting.
The court has so far heard evidence of how after Meyiwa was confirmed dead and how music producer Chicco Twala had offered Kelly a holiday overseas. Chicco is Longwe's father.
The matter is set to continue on Friday.