Thembinkosi Lorch Confirms Thuli And Maphorisa's Relationship – Video
Thembinkosi Lorch Confirms Thuli And Maphorisa's Relationship – Video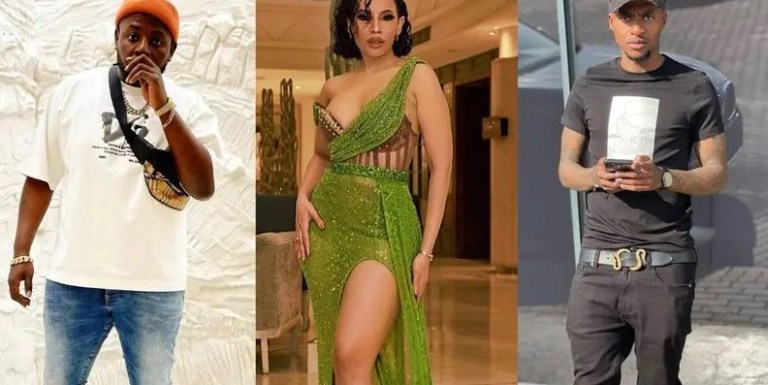 Mzansi is still trying to come to terms with the possibility of DJ Maphorisa and actress Thuli Phongolo being an item. Despite Thuli denying the relationship rumours, more videos of them being extra cozy with each other are surfacing. Now, Maphorisa's close friend, Thembinkosi Lorch, poured more fuel to the fire.
We might have a new couple in ZAlebville but we probably have to wait a while until they come clean. History is repeating itself as Phori's relationship with the actress and DJ got confirmed by Lorch, in the same manner his relationship with Natasha Thahane got confirmed.
A few months back, Maphorisa went on Instagram live with Lorch and they spoke about the rumours of him being involved with Natasha. The Orlando Pirates player flatly denied dating Natasha and asked who she was.
Yesterday, Lorch and Phori got on IG live once more and Lorch teased Madumane, saying he is dating Thuli.
Lorch asked his friend "where is Thuli Phongolo?" catching Madumane off guard. He stuttered and said he does not know. His facial expression said it all! The soccer player then sang "Thuli waPhori", and they laughed it off.
In the same live video Maphorisa sang about Thuli. Could this be confirmation that indeed something is going on between the two?
Lorch confirmed it "Thuli wa Phori"🤣🤣🤣. pic.twitter.com/wYwNuhTXtD

— Felix Mothemane (@felix_mothemane) October 12, 2021
Not Maphorisa singing about Thuli in a Live video with Lorch.#Madumane ker star pic.twitter.com/8kZchQ10mL

— 📀𝑴𝒂𝒌𝒂𝒗𝒆𝒍𝒊📀 (@only1mxolie) October 12, 2021
Check out videos of the two looking happy:
They look so happy 😍 #Thuli wa Phori pic.twitter.com/qQkRzhlYvp

— Memme (@enhle_entle) October 13, 2021
Aowa guys Thuli was be honest about what's happening between him and Maphorisa, open space mogurl☺️ pic.twitter.com/h134CQd6YY

— Call me Thabo🩸 (@Callmethaboo2nd) October 12, 2021
Thuli took to Twitter to deny dating Phori – the same way Natasha denied her bae, Lorch, claiming that she is still single. Two days before the rumours, Thuli claimed that she is not ready to date, "Everyday I think I'm ready to date but then everyday I'm not ready… because wow, amadoda!"
This is the same woman who said SA men are not for her. "The happiness and peace I'm experiencing right now! My life journey is heading towards my desired direction. I'm so spiritually aligned. My loved ones fulfill me. My work is in order. I'm gradually dealing with mishaps with a sense of calmness. I'm genuinely enjoying life. Grateful! In terms of love, I don't think I'll win in S.A she said on IG months back. unless a miracle happens but ke angifuni shame. Ha ke batle, immediately no,"