Sweet messages pour in for Rasta over Patrick Shai's painting – Photos
Sweet messages pour in for Rasta over Patrick Shai's painting – Photos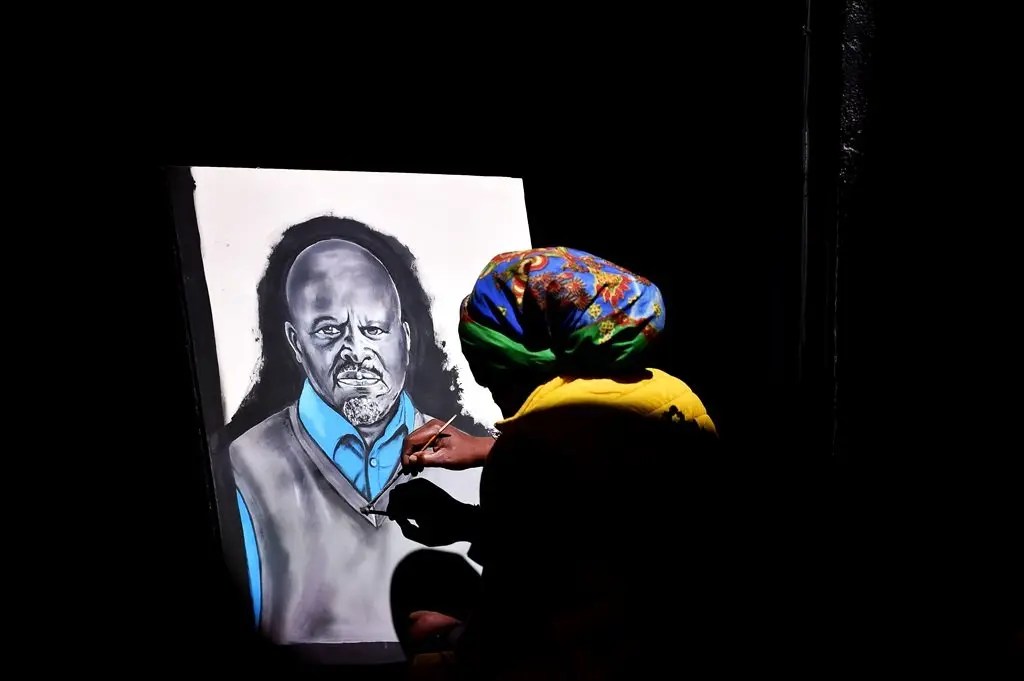 Controversial painter Rasta the Artist rarely gets any applause from South Africans for his paintings. However, Rasta is currently basking in warranted applause, following an excellent portrait of deceased legendary actor Patrick Shai.
Rasta, real name Lebani Sirenje, has become notorious for his paintings of prominent deceased people, mainly South Africans, as his paintings somehow never seem to resemble their subjects at all. They usually seem to be caricatures of the deceased. This has led to speculation that Rasta does this deliberately to attract attention.
However, Rasta's painting of the late Patrick Shai is being applauded for doing an excellent job in paying tribute to the late veteran actor. Patrick Shai allegedly committed suicide in the garage at his house in Dobsonville, Soweto, over the weekend.
Ntate Patrick Shai Molefe, the Pionner of the Arts🎞️🎥. RIP👊🏾🙏🏽✌🏾#patrickmolefeshai #restinpeacepatrickshai #RIPPatrickShai pic.twitter.com/FhlppbL38x

— Rasta The Artist (@RastaArtist) January 27, 2022
Below are some of the responses from South Africans impressed with Rasta's painting of Patrick Shai:
…when Rasta respects you…👌 https://t.co/LxFoZdoCDB

— Lan!👑 (@kevinsibanyoni2) January 27, 2022
🔥🔥🔥🔥🔥🔥🔥🔥🔥🔥🔥 https://t.co/JybMrp8FJb

— Time Paradox (@AuraMathers) January 27, 2022
Uzamile Rasta Shaya la pic.twitter.com/kLXxQyU2b7

— Khanyayo (@sesokuhle) January 27, 2022
Gotta give credit were it's due 💯

— Kevin Macclane (@Kevinmacclane) January 27, 2022
Rasta is smart, this man is talented, his "bad work" made him thee most famous artist in South Africa which got him that Chicken Licken deal, now he can showcase his talent

— Simtholile Mnisi 🇿🇦 (@simtho_mnisi) January 27, 2022