Somizi puts Mamelodi on a standstill after surprise visit
Somizi puts Mamelodi on a standstill after surprise visit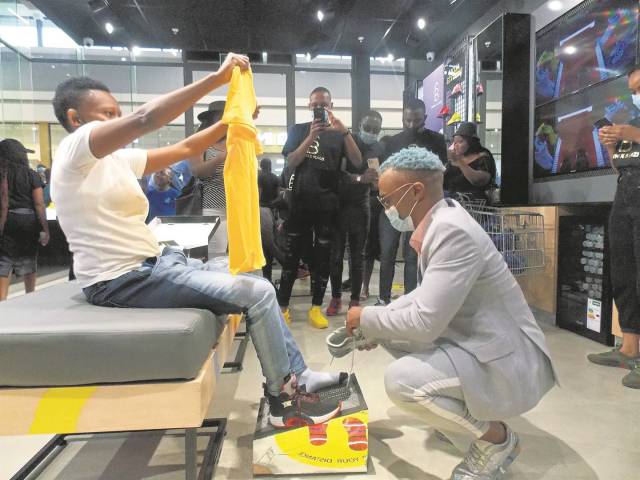 Somizi Mhlongo Motaung was celebrated by the community of Mamelodi when he visited Mams Mall on Friday as part of an introduction of the Bathu x Somizi sneakers.
Somizi said he met the owner of Bathu Shoes, Theo Baloyi, almost five years ago in Joburg and their relationship has stood firm since then.
He said last month they collaborated and the Bathu x Somizi sneakers are in shops.
"These shoes are very comfortable and locally made," said Somizi.
"This collaboration will encourage many people as we're growing our economy.
"It doesn't mean that you have to collaborate with international companies to make it. This shows we trust ourselves and we're proud South Africans."
He said the sneaker can be worn at any event including weddings and at sports events.
Somizi said he loves fashion. He said going to Mamelodi was worth it.
Theo said he started making sneakers in Alexandra, Joburg, in 2015.
He said he has 16 branches in every province, as well as 182 workers.
Theo, an accountant, said making sneakers is humbling and he loves supporting local brands.
"The collaboration is going very well and people are very excited about it.
He advised people to be patient as the results will come later.
Theo, originally from Hammanskraal, north of Tshwane, said he's a great fan of sneakers and being part of making them makes him very happy.
"Making sneakers is part of creating jobs for people," he said.
Katlego Makaba said she was so excited to wear Somizi sneakers.
"I support local brands and have been buying the Bathu sneakers for the past two years," she said.
"They're so comfortable and beautiful and meeting Somizi is a dream come true."
Mimi Mahlangu said seeing Somizi entering the shop was the greatest moment of her life.
"I will continue wearing Bathu sneakers because they're beautiful," she said.
Khanyisile Mathebula (9) said she'd tell her friends that she finally met Somizi.
"I love his sneakers. I'll continue buying them because they're beautiful," she said.