Skeem Saam: Lehasa proposes to Pretty
Skeem Saam: Lehasa proposes to Pretty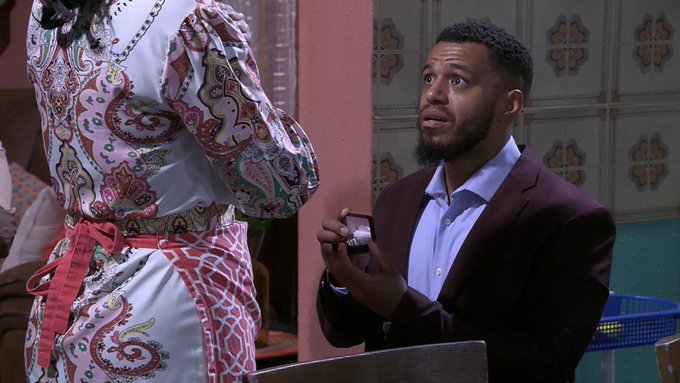 Well-known onscreen couple Pretty Seakamela and Lehasa Maphosa on SABC 1 drama Skeem Saam have been. Going through a rough patch lately.
Pretty moved out of Lehasa's Sandton apartment after his pregnant ex Khwezi moved in back. She told Lehasa that she was tired of being second to his baby mama and he needed to show his commitment.
Pretty moved back home to Turfloop despite Lehasa's efforts to get her to stay. In Tuesday's episode, Lehasa went to Pretty's house and got on one knee to prove his commitment to the relationship. Before we could hear if she said yes or no, the episode came to an end.
In a 2022 interview with Metro FM, the Skeem Saam actress Lerato Marabo opened up to Mo Flava and Khutso Theeledi about her alleged wedding which took place last year,
In 2021 Lerato Marabe was rumoured to be married at a beautiful traditional wedding joined by close family and friends. Some of the Skeem Saam actors were not present which is understandable as it was during the lockdown period and a lot of restrictions were imposed.
People couldn't move around as freely as they do now.
Images surfaced on social media where it appeared the actress was wearing traditional wedding attire next to her hubby.
In an interview on Metro FM's breakfast show Lerato cleared the air and revealed that she didn't get married.
"Big big lies, I didn't get married last year."
There were celebrations at her home in Johannesburg and it started raining so she used her grandmother's blanket as cover which she believes led people to think she was getting married.
"We were performing a ceremony at home last year. So it rained on that day and the blanket I was wearing that day is my granny's blanket. So I just took a picture and posted it and everyone was like "She got married" not even.
"Everywhere I go they ask me about my husband," expressed a frustrated Lerato.
She told Mo Flava and Khutso Theledi that playing Pretty is easy as they are the same age and going through more or less the same thing
"I think with Pretty it was very easy, we are going through life at the same time. A lot of the times we go through the same thing."
She also told Metro FM that working with Lehasa has been seeming less.
"He is a cool gent and very professional. He doesn't make me feel uncomfortable. Even when we have scenes where we have to be intimate, he'll talk me through. It and ask me what am I comfortable with."
Marabe, who has been part and parcel of Skeem Saam since the very beginning got into the entertainment industry at a very young age.
"The very first thing I did was the Omo Ad and the very first big thing was Takalane Sesame. I played the character of Tshidi. I was the very very last Tshidi."
The actress, who. Didn't study acting says she's learning as she goes through her journey on television.