Sibongile Khumalo finally laid to rest
Sibongile Khumalo finally laid to rest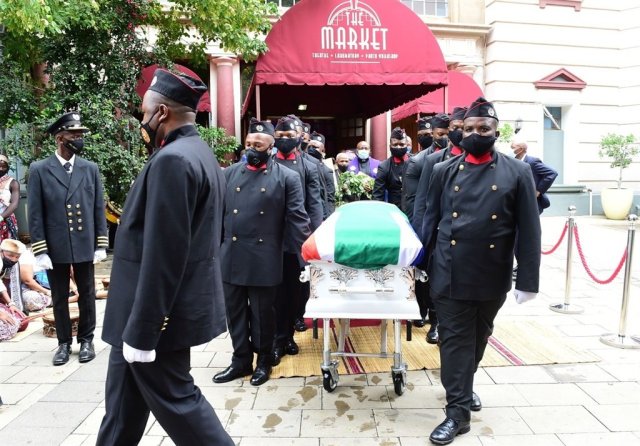 Legendary jazz and opera singer Dr Sibongile Khumalo was laid to rest on Saturday, 6 February.
The funeral service of the music icon, who succumbed to stroke-related complications after a lengthy period of illness, was held at the Market Theatre in Joburg.
Speaking at her funeral, her brother Lindumuzi Mngoma said Khumalo had been unwell for quite some time.
"As we are all aware, she hasn't been on stage for some time. For over four years now, she was being driven around by her daughter because she had a mild stroke. She would keep herself strong and mingle," he said.
"But again, early last year she suffered another stroke that landed her in hospital. She later recovered, but only close family members could see her and were aware of her condition," he continued.
"Her last days were hard for the family because she was not even able to communicate. We hope that friends and relatives that were not able to see her will understand and pardon us for not making her condition public," he added.
On behalf of the family, Siya Khumalo said they had lost someone special.
"She was a beautiful soul who made everyone feel special. We are grateful to have witnessed the love she had for everyone," he said.
"She always had an ear for everyone, and we thank her for everything she has done for us; sharing your gift with us, shielding us with your music and the overall love you had for us."
Her daughter Ayanda Khumalo thanked her for teaching her the value of family."I am what I am because of who you are. I don't know if I could speak about you in past tense. It has been a privilege to call you my mother. I don't know what life is going to be like without you because I've never imagined a life without you. I will continue to do what you've tasked me to do and honour your memory."
Her son Tshepo Mngoma said Khumalo was a blessing to his family and thanked her for always being supportive.
"Thank you for the unconditional love you've shown my children, wife and me. Most importantly, thank you for your teachings and advice," he said.
"You were not just my mother biologically, but also professionally. I'm the musician and director I am today because of you."
Speaking to Daily Sun at the funeral, her friend and fellow jazz artist Gloria Bosman said she was going to miss her.
"She was a very generous and big-hearted person. I'm going to miss that about her. She has paved a way for us in the music industry. All we can do now is ensure that we carry on her legacy and celebrate her."
Khumalo's funeral service was attended by family, friends, and colleagues, including Abigail Kubeka, Sipho "Hotstix" Mabuse and Nomsa Manaka.