Shocking facts you probably didn't know about actress Noxolo Maqashalala
Shocking facts you probably didn't know about actress Noxolo Maqashalala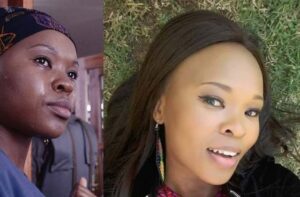 Mzansi star Noxolo Maqashalala who was born in KwaBhaca (formerly Mount Frere) is best known for her role as Viwe in the first three seasons of SABC1's youth drama series Tsha Tsha between 2003 and 2005.
Noxee Maqashalala also appeared as Mandisa in SABC1's Intersextions in 2010, and also had roles in SABC1's Generations, Diamond City in which she also served as one of the executive producers, and Dream World; as well as SABC2's Gauteng Maboneng, e.tv's Rhythm City, Easy Money, Mzansi Love and The Kingdom – uKhakhayi.
Nathi Mthethwa, South Africa's minister of sport, arts and culture, in a statement on Sunday morning said that he was "deeply saddened by the passing of Noxolo Maqashalala and Menzi Ngubane".
"The sector has been robbed at a time when there is so much tension and stress in the industry due to the economic collapse and already-existing challenges within the industry".
"South Africa and the world have lost two phenomenal thespians," said the minister, describing Menzi Ngubane as "an icon, an acting aficionado" and Noxee Maqashalala as "one of South Africa's greatest actresses of our time".
"She was a sterling performer who gave her best at every role that she took on," he said.
Quizzical Pictures, where Noxolo Maqashalala not just starred in the critically acclaimed series Diamond City on SABC1 that is now available on Netflix SA but was also one of the executive producers, on Sunday morning in a statement to TVwithThinus said that "We are deeply saddened by the passing of Noxee Maqashalala".
"We first came across her nearly 18 years ago when she starred in our drama series Tsha Tsha."
"It was her first-ever role and her performance as a young girl infected with HIV, was unforgettable. We worked with her often. She was the star and face of Intersextions; gave a remarkable performance in Easy Money and together we developed Diamond City for SABC1 which is currently showing on Netflix."
"Like many talented people Noxee had a restless soul and never made easy choices. She was a consummate professional and her grace and talent will never be forgotten. Lala Ngoxolo Noxee."