#Shembe: Meet Mbali Nyandeni, woman in the viral shembe video
#Shembe: Meet Mbali Nyandeni, woman in the viral shembe video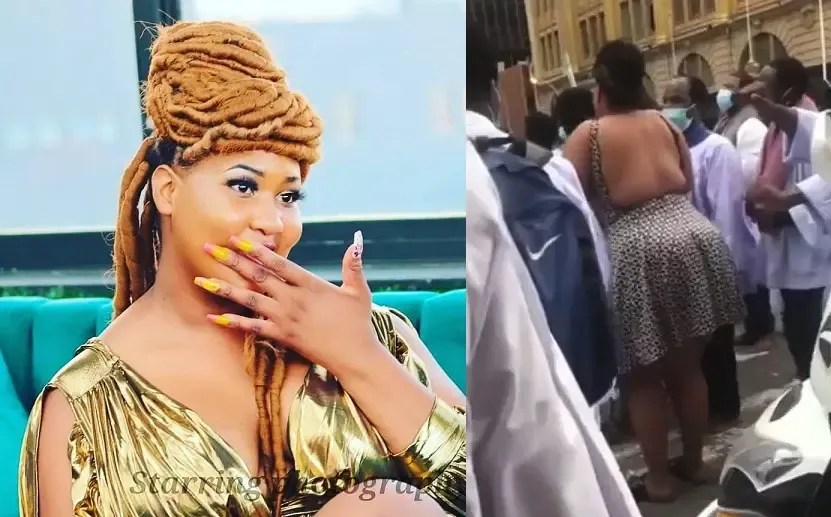 Mbali Nyandeni from KZN, Eshowe has instantly gained stardom.
This after she was rudely removed from Umgido by a Shembe member.
On Tuesday, members of the Shembe church embarked on a peace march in Durban.
During their march Mbali heard their trumpets and decided to join them. But she was left with an egg on her face when she was rudely removed from the marchers. Her video has been trending on social media since Tuesday, 28 September afternoon.
She has since come out to speak about the incident.
"I was in my flat when I heard the Shembe trumpet. I started dancing by myself. But I was too excited, so I decided to go and dance with them on West Street. I joined them and danced for a few minutes. As I was enjoying myself, one of the church members rudely removed me. I was so embarrassed and disappointed," she explained.
"I was so hurt, I asked myself why is he removing me. I stepped aside and watched them as they danced. I didn't mean to be rude or disrespectful but I was just overwhelmed because I love them especially Inhlalisuthi (men from the Shembe church)," she continued.
#shembechallenge #shembe pic.twitter.com/6KmNAh77pW

— Blackspice (@TheBlackspice) September 28, 2021
She said she has been receiving calls since Tuesday.
"I guess I've become an instant celebrity. When the video started trending I was sad but I watched it again and I was also embarrassed," she said.
Gospel artist Butho Vuthela said: "Ubushaya kahle yazz, sorry nkosazana, kodwa wena ubuzijabulela wena Mbali, we understand don't worry."
Owami wrote: "You made my day mama yuuuuh…u deserve a provincial whatever nawe ngeke. Ngiyakuthanda mina maMbaliza you represented us so well. Mbali for president," commented Cindy Mthembu.
Mathemby Mseleku said: "You're beautiful. I didn't like the way the removed you because you were simply enjoying their presence plus that was a public space."