She cheated with another man – New details emerge on why Quinton Jones divorced Minnie Dlamini, He finally speaks out
She cheated with another man – New details emerge on why Quinton Jones divorced Minnie Dlamini, He finally speaks out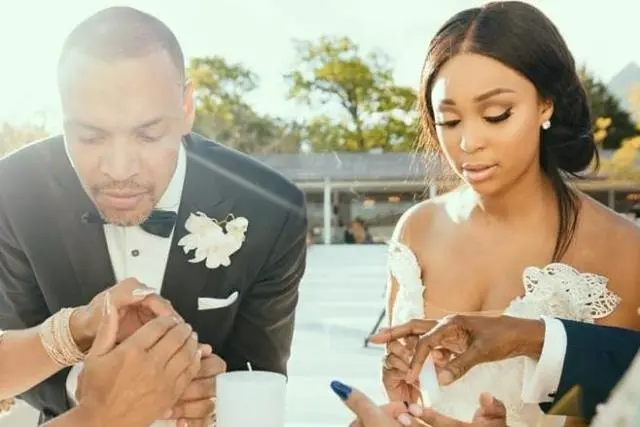 When they first announced their divorce in February, Minnie Dlamini and Quinton Jones insisted that they will "remain friends and business partners" despite their split.
However, the unfolding story behind the divorce has taken a new shift after the American former professional football player, Quinton Jones, dropped a bombshell on why he divorced his estranged wife, television presenter, and model, Minnie Dlamini.
Minnie and Quinton announced their divorce in February 2022 in a joint statement, ambiguously citing "changes in motion, emotional burden and post-traumatic distress of our individual loss" as the reason for parting. The celebrity couple had been married for four and half years after walking down the aisle on July 8, 2017.
"In the last 2 years, our family has experienced incredible joy and devastating loss. During this time, we found comfort in knowing we had each other."
Following the seemingly peaceful breakup, Minnie alleged that the reason why they fell out of love with each other had nothing to do with cheating after a local publication had published a story in that regard. Interestingly, Quinton has made it known that she was not truthful.
Quinton Jones confirmed that Minnie Dlamini cheated, prompting their marriage to collapse, according to a celebrity gossip blogger.
Musa Khawula says that Quinton has confirmed that Minnie's infidelity is the main reason for their marriage to collapse.
Musa wrote: "Quinton Jones confirms that Minnie Dlamini's infidelity is the main reason for their marriage to collapse. Minnie Dlamini said the reason for their marriage to fail was because they fell out of love with each other but according to Quinton Jones she had hoed herself."
Quinton Jones confirms that Minnie Dlamini's infedility is the main reason for their marriage to collapse.

Minnie Dlamini said the reason for their marriage to fail was because they fell out of love with each other but according to Quinton Jones she had hoed herself. pic.twitter.com/FK6hKrhmc5

— Musa Khawula (@MusaKhawula) August 24, 2022
Shockingly this week, the husband amended his particulars of claim in the court papers. He stated their marriage ended because the former Metro FM presenter was involved in an extra-marital affair. He did not name the man who cuckolded him.
Minnie Dlamini's cheating partner is rumoured to be Edwin Sodi who is famously known as a flamboyant SA businessman. Quinton is said to have caught Minnie cheating with another man and he's also stopped his business partnership with her following the announcement of their divorce.
Hours later, it was revealed on Twitter that the broadcaster was cheating with Sodi and she flexed his private jet many times.
"Rumour has it Edwin Sodi and Minnie Dlamini kept their spark alight whilst Dlamini-Jones was married. It is also said, that his private jet was put to good use entertaining Minnie Dlamini and her friends," Musa Khawula wrote on his Twitter account at the time.
The cheating rumour triggered lots of netizens who have in turn cancelled Minnie and even slut-shamed her for destroying her beautiful home.
In May this year, three months after breaking up, Minnie Dlamini finally broke her silence and said Mzansi should let them deal with their situation privately, despite the fact that they are the ones who, in the first place, had told South Africa that they had parted ways.
"We kindly ask that you allow us to go through our private processes without dragging ourselves, our families, and our loved ones into baseless rumours and social media sensationalism. These baseless rumours affect not only us, but our child," a statement that Minnie said was a joint statement between her and her estranged husband read.
Slik Talk, who could be one of the legal parties mentioned also joined the conversation.
"So I heard that Minnie Dlamini is actually the one who cheated on her simp husband and her simp husband is the one who filed for divorce. I can't say I'm surprised. Minnie Dlamini in her heyday was a solid Joburg 10, one of the hottest women on African soil.
"Currently, she is a Gomora six, let's call her what it is. Nobody is checking her, she is not as bad as she used to be. The fact that she cheated on this man after spending all of his money is actually despicable."
Following the divorce, Celeb Gossip News also learnt that Minnie Dlamini was refusing to sign divorce papers, supposedly to fix Quinton who reportedly quickly moved on and is already being seen seemingly romantically entertaining another woman.
Since nearly a month after the shock divorce announcement was made, Quinton Jones has been spotted with an unknown woman at a nightclub in Sandton, Johannesburg, who is believed to be his new girlfriend.
Quinton Jones, who is now a businessman and television producer, was spotted two weeks after their break-up with Minnie at Orthodox Lounge in Johannesburg with some friends, but it seems there was more to the night than just casual drinks.
Although the estranged couple would portray in public, through joint-statements, that they remain friends and business partners, however, the reality on the ground suggests otherwise. Business partnership between Minnie Dlamini and Quinton Jones has continuously crumbled from the time their much-publicised separation was made public.
"Despite the end of our marriage and romantic relationship, we remain friends, business partners and loving parents to our beautiful son," Minnie, a former Metro FM presenter, said in a statement, but this appears not to be very true.
Source close to the former couple said Jones changed his mind about the partnership and informed Minnie Dlamini that he had taken a decision to resign from their company, Beautiful Day Production. Jones, said a source, owns a 25% stake while Dlamini owns the rest of the shares in the company that produces television shows, among others.
The deep throat said Quinton Jones told Minnie Dlamini he will also give her their house in Midrand where she will raise their child.
"Remember, they were married by antenuptial contract, which is subject to accrual system," a mole told us.