Shaun Stylist's girlfriend Anele Ngema parties with Andile Mpisane's girlfriend Tamia – Video
Shaun Stylist's girlfriend Anele Ngema parties with Andile Mpisane's girlfriend Tamia – Video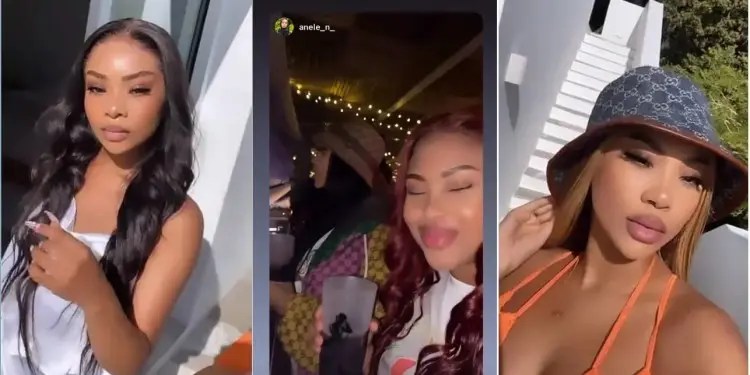 Anele Ngema is Shaun Stylist's new flame, and the two have been publicly hanging out together for a while now; it was improbable for Shaun to be public about this relationship but, it may be that solid. Shaun Stylist has a profound connection with Andile Mpisane, his older sister Sibhahle Mpisane and his mother Shauwn Mkhize; however, there isn't certainty about whom the stylist became close within the family first.
When the beautiful Anele Ngema was rumoured to be dating Shaun Stylist, a series of Anele's pictures started heavily circulating on social media and tweeps noticed the resemblance between Tamia and Anele. Both young women have different surnames so, any speculations of them being related to one another were squashed. Anele and Tamia were seen casually hanging out and getting along quite naturally. They could quickly become very close friends if they aren't already.
Everyone is pretty much aware of the closeness between Shaun Stylist and Andile's family. He's styled all famous members of Andile's family and probably much more. Shaun has also been called Shauwn Mkhize's adopted son. To make his close relations worse, he was partying with Tamia Mpisane, the new wife of Andile Mpisane and his girlfriend, Anele Ngema, in Cape Town. Shaun, Andile, Anele and Tamia were most likely to be on a double date as Andile and Tamia have been travelling together since their new marriage.
Shaun is a man who loves luxury and success around him. It's clear from the clothes he wears, the acquaintances he keeps around him, the cologne he flaunts on the socials and his constant travelling to gain new experiences locally and internationally. With his ambition, it's only fitting that he associates with the people with who he associates. Andile Mpisane won a Best Music Video Award in December 2021. Shaun is aspiring to pursue music, too; he's most likely to stick to Andile even more as Mr Mpisane has many deep connections in the music industry.