Senzo Meyiwa's vandalized tombstone renewed
Senzo Meyiwa's vandalized tombstone renewed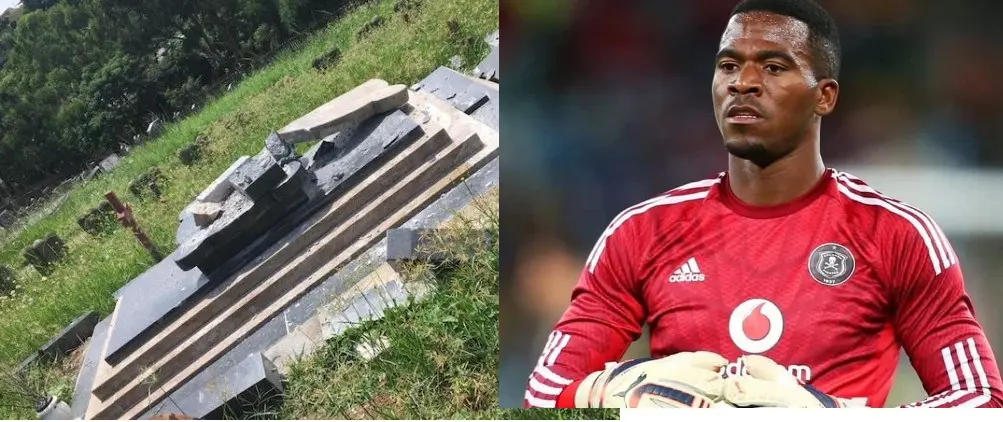 THE tombstone of former Bafana Bafana Captain Senzo Meyiwa will be renewed in three months' time.
That's according to South Africa Football Association (Safa) in KZN.
Senzo's tombstone was vandalised and left into pieces in December 2020 at the Heroes Acre cemeteries in Durban.
Safa spokesman and co-ordinator of the Senzo tombstone project, Kwenza Ngwenya, said that after the tombstone was vandalised, they agreed to renew it, but the lockdown disturbed the plans.
He told a local publication that when the lockdown regulations were lifted, they resumed the project but the recent floods in KZN affected their plans.
"The tombstone company in Pietermaritzburg, KZN Midlands recently went to check the grave. But the floods happened," said Ngwenya.
He said that they were busy planning the re-installation.
When he was asked about security, and how they will protect it from being vandalised again, Ngwenya said that they've discussed the issue.
"That's a million dollar question. But we will try to fence it in a way that thugs won't have access to it. It cost Safa R160 000 for the tombstone alone, excluding the cost of the unveiling. For it to be vandalised like that, days after the unveiling, was shocking. But this time we will try all the means to protect it," said Ngwenya.
"You must remember that Safa is not obliged to install this tombstone. We are doing it because Senzo played for the national team. This is work from the goodness of Safa's heart. And we want to show the nation that we care and we recognise what Senzo was doing for us. And we are also helping the Meyiwa family. As a co-ordinator, I will make sure that everything is ready in three months."
He said Safa first proposed to make Senzo's statue as an honour, but his father, Sam Meyiwa, when he was still alive, pleaded for the tombstone.
"That's why we made sure that Senzo's grave had a tombstone. And we did it before criminals vandalised it," said Ngwenya.
Senzo's brother Sifiso Meyiwa said that they will be happy when the tombstone is installed.
" That will bring dignity to my brother. Let's just pray that nothing disturb the project again," said Sifiso.
Senzo was shot and killed in 2014, the matter that is still in court.