Screenshots: Actress Jessica Nkosi is breathing fire
Screenshots: Actress Jessica Nkosi is breathing fire
It is no secret that award-winning TV actress Jessica Nkosi is a sweetheart but when she is angry, she does not shy away from venting out her frustrations on social media and clapping back at her trolls mercilessly.
Taking to her Instagram stories she gave those who have been bothering her a peace of mind. The actress penned a series of stories lamenting how in the past two weeks people have pushed her button to a point where she snapped.
Her anger stems from having given people reactions to what happened over the past two weeks. In her scathing message, she said she doesn't like to be pushed to the point of anger.
"Yazi mina I'm very slow to get you to a point of anger. I choose to be quiet nje and choose peace, like it take a lot to get to a point where I am angry. Over the last two weeks, I have been mad angry and lost my cool twice at the same place. Once a particular place can get me to that point I know its time to remove myself and exit. because now it is messing with my peace and I don't play with that. Actually nje angithandi ukusukwelwa mina nje period," she wrote.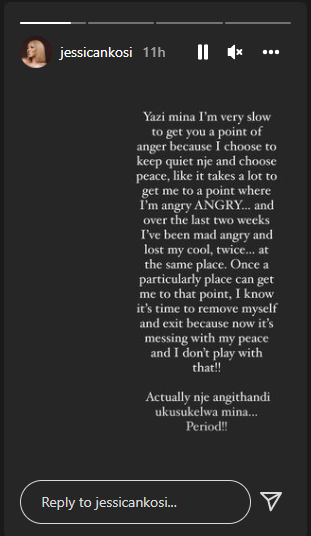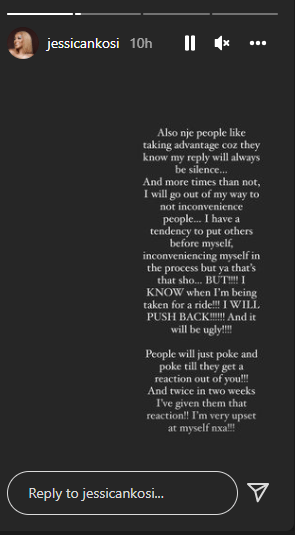 She went on to say that she doesn't like it when people take advantage of her because she does not also inconvenience other people.
"People like to take advantage of me coz they know my reply will always be silent and more times than not I will go out of my way to not inconvenience people. I have a tendency of putting others before myself inconveniencing myself but ya that's that but I know when I am being taken for a ride, I will push back and it will be ugly. people will poke and poke until they get a reaction from you and twice in 2 weeks i have given them that reaction I am mad at myself," she wrote.
We salute her for protecting her mental health. While we may know who she was addressing. The last time we witnessed Jessica angry like this was when she called out her baby daddy for infidelity. TK Dlamini had allegedly cheated on her and she was breathing fire.
The actress gestured at the woman who had been seeing her baby daddy behind her back – that she could publicly claim him as hers. Her followers even sent her pictures of the two of them out and about. In a seies of Insta stories she wrote:
"To you who is seeing the father of my child behind my back. You are free to be with him fully now, no more hiding, lol enjoy babe," she wrote on IG. "And yes, I am heart broken, shattered actually. But you know what I will be fine, Good in fact."
"To my Instagram followers who came with the receipts and pictures when you saw them out together. Thank you, you truly love and care for me. Ngiyabonga, would have never believed," she vented.