Sbahle Mpisane exposes woman who advised her to cut off her foot – Video
Sbahle Mpisane exposes woman who advised her to cut off her foot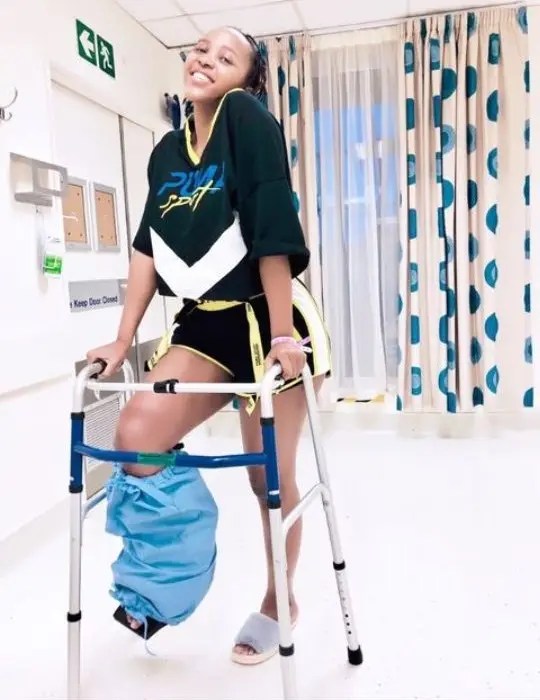 Mzansi fitness bunny, Sbahle Mpisane topped the trends list after she went on an emotional Instagram Live. She was addressing an Instagram DM she received from a woman who told her to cut off her foot so she could enjoy the perks of wearing heels and being free.
This DM did not sit well with Sbahle who read it while getting her tattoo. She said she had to remove herself from Instagram at the time but she kept on thinking about it and was left emotionally.
"I came across a DM from a girl suggesting that I should amputate my foot so I can wear heels and run and be flexible like her. So when I read it, I was like 'ugh whatever' and after reading her message I decided to just get off Instagram and just like not focus and just continue doing my tattoo.
"But I kept thinking about it and it kept passing. And then I start crying, I cried out loud in the studio it was big and there were people there as well. They were all wondering if my tattoo was sore. I could not explain to them why I was crying.
"I was so heartbroken at how a person could just tell me I should just cut off my foot. Like why would I want to cut off my foot?"
She then explains that her mother told the doctor to not amputate her foot because after the accident it was basically sticking out. She said if Sbahle was to wake up without her foot, she would not be happy, and she probably would not be alive today.
"The doctor said I was like a toasted slice of bread that was crumbled up and he had to put all of that together," said Sbahle.
"I've said so many times ukuthi I broke 80% of my bones. People have so much to say to me and I always look at them and say what I went through, 95% of people would not survive that. My face is perfectly fine, my body is fine, I can still walk, I can touch the ground with both my feet. So to have this girl tell me to o and cut off my foot, the foot we spent so much money putting together, a foot my doctors had to try put together. For her to tell me to cut it off so I can wear heels, what are heels guys?"
Sbahle then started getting very angry at the comments on her Instagram live where people told her that the girl should just say sorry and move on. She then spoke about how she had attempted to commit suicide in the past so such comments make her feel some type of way. "I have [attempted] to commit suicide twice because of you people's f***n words."
Sbahle then said she wishes she would not have to be alive to hear the hurtful words from trolls.
Fitness bunnies' rants continued with her swearing at the trolls who commented on her live, where one said she has money. These trolls were told by Sbahle to unfollow her because she does not understand why people who do not like her, follow her.
Sbahle then made reference to Riky Rick whose life was perfect but ended up committing suicide.
Watch the full Instagram live below: