SAD SCENES; MEC Bheki Ntuli's wife attends funeral in ambulance!
SAD SCENES; MEC Bheki Ntuli's wife attends funeral in ambulance!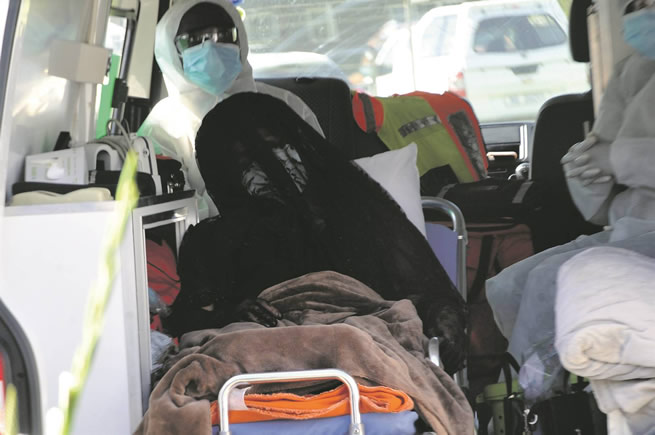 When a loved one dies, surviving family members cry together and comfort each other.
But this was not possible for the family of late KZN Community Safety MEC Bheki Ntuli (63), who was laid to rest in Empangeni, northern KZN, on Thursday 21 January.
Ntuli's wife, Sinenhlanhla, was not able to comfort her children as she was in isolation in hospital due to Covid-19. She was allowed to attend the funeral, but had to sit in an ambulance.
The ambulance arrived a few minutes after the hearse carrying Ntuli's body arrived at Empangeni Hall.
Ntuli died of Covid-19 on Saturday 16 January.
Among the mourners were Transport Minister Fikile Mbalula, Premier Sihle Zikalala, Health MEC Nomagugu Simelane-Zulu and IFP chairman Blessed Gwala.
Speaking on behalf of Ntuli's children, Mbali Nzuza said: "He taught us to love one another. He was a good father to all of us and we thank him for everything he did for us.
"Farewell, my best friend and father."
Zikalala described Ntuli as a peace ambassador and champion of the poor.
"He was older than most of us in politics, but he was able to communicate with all of us. He loved the ANC even though he lost family member who were killed because of the party," he said.
Mbalula said there was no task Ntuli was given that he didn't do.
"We have lost a servant of the people. His children must know their father was a hero," said Mbalula .
He said the fact that Ntuli's wife was allowed to attend the funeral was not favouritism.
"All Covid-19 protocols were adhered to. Ntuli's coffin was outside the hall the entire ceremony," he said.