SA Idols 2022 winner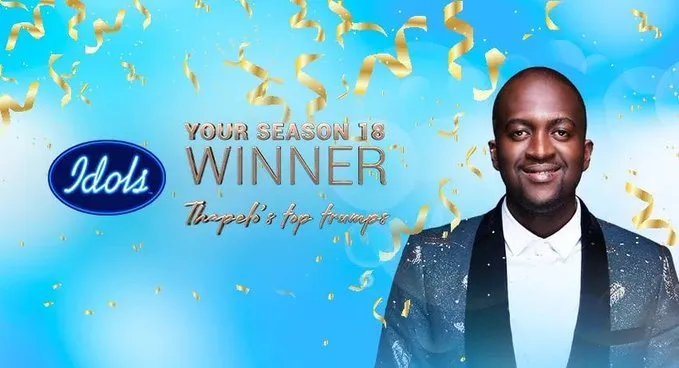 Singing competition, SA Idols 2022 saw the two finalists , Nozipho Sibiya and Thapelo Molomo battle it out with their vocals at the Heartfelt arena in Tshwane. Both finalists have delivered outstanding performances throughout the emotional season 18. This made them crowd favorite's. The 29 year old police man from Limpopo, Thapelo won the crown as Idols SA 2022 season 18 winner along with amazing prizes. This includes a prize haul of just over R1-million cash.
THAT winning #IdolsSA moment for Thapelo 👑https://t.co/hGVQdYCFg8 pic.twitter.com/29Q5qT0gmE

— Idols South Africa (@IdolsSA) November 14, 2022
Thapelo's prize haul is broken down into R350,000 in a Standard Bank MyMo account (sponsored by Old Mutual), R300,000 from Spotify and R350,000 from Mzansi Magic; access to a Standard Bank wealth manager; a Toyota Starlet; a fashion voucher from clothing brand, Truworths and their live show outfits, all to the value of R100,000; R85,000 worth of musical equipment from Yamaha; and a recording contract with Kalawa Jazmee Records. After winning , Thapelo wrote on Twitter, All honour and glory be unto God. Family, we are officially crowned Idols SA winner of Season 18, 2022. All this is because of the mighty God we serve. We have seen his power and ability. Thank you family for all your votes and support throughout. I have seen your love
Idols SA season 18 overall also experienced an increase in viewership despite earlier conversation of low views. As the competition became tighter, voting increased with the top 5 receiving a record breaking estimate of 14 million votes. Top 3 generated 15 million views and the finals surpassing 18, 5 million views.
Minister Cele and the @SAPoliceService family are today wishing #IdolsSA finalist Thapelo Molomo #TeamThapelo well in his quest to take the title. Thapelo serves as an inspiration to police across 🇿🇦 in believing in their talents whilst serving and protecting the nation. pic.twitter.com/s8pMSh1ass

— Lirandzu Themba (@LirandzuThemba) November 13, 2022