Round Two: Emtee Drags Flvme For Dropping Out Of High School
Round Two: Emtee Drags Flvme For Dropping Out Of High School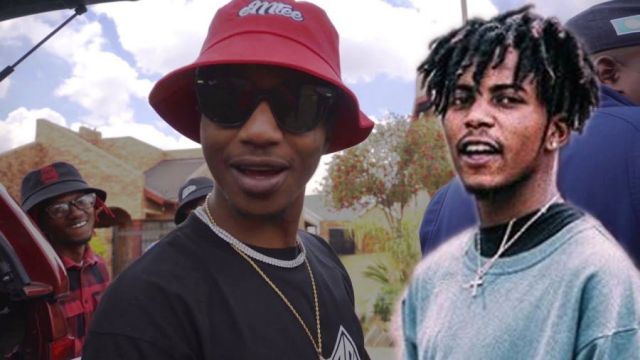 It looks like Flvme and Emtee's twar is not coming to an end soon as the Roll Up hitmaker is causing a stir on Twitter. The multi-award-winning rapper has hit back at trolls weighing in on his beef with Flame. The two were at loggerheads on Twitter in a heated Twitter twar over who makes better hooks in songs.
The rapper's twar started after Emtee tweeted the question "Who makes better hooks than me?". His question sparked a major debate on Twitter and it was many comparing Emtee and Flame's creativity and their chart-topping songs.
Flame decided to diss Emtee's music career saying his music is better than him. "I don't have anything against Emtee guys. I'm just saying I don't believe he's a better artist than me as much as he believes I'm not," Flame tweeted.
Emtee retailed by saying he does not want to compete with anyone but to make music and raise his children. "I asked a simple question. WHO MAKE BETTER HOOKS THAN ME? Never said I'm better than anybody or compared myself to anybody. Yall lil boys carry on competing. I'm making music n raising my kids," he said.
Flame finished him off by saying he should not disregard his creativity and told him that his last hit was in 2017.
A disgruntled Emtee has been firing shots at trolls on Twitter who have been dragging him for apparently "claiming he is better than flame" and his clap backs are lethal. A fan called him out and asked him if he wants to be worshipped by Flame. The rapper retaliated by saying "I never said anything about ur boy. Ukuthi niyanyobana ang'ngeni ndawo (If you guys are f*cking each other, it's none of my business," he replied.
I never said anything about ur boy. Ukuthi niyanyobana ang'ngeni ndawo https://t.co/jiTmbIxuma

— iThemba (@emteerecords) February 12, 2021
Another one slammed Emtee and said he is the one who apparently provoked Flame, "Flvme didn't start anything.E MTEE came at him, just not directly to him." The rapper responded by saying they are losing their minds now that the alcohol ban has been lifted.
The rapper was seemingly shaded Flame who dropped out of high school. According to reports, the rapper dropped out in Grade 11. "All I know is I have a Matric and never disrespected my mama."
In another tweet, Emtee wrote, "I hate these kids who think dropping out of school and running away from home, showing ur folks the middle finger, and being a rebel is Cool," he tweeted.
I hate these kids who think dropping out of school and running away from home, showing ur folks the middle finger and being a rebel is Cool.

— iThemba (@emteerecords) February 12, 2021