Rorisang breaks her silence on viral Bonang video
Rorisang breaks her silence on viral Bonang video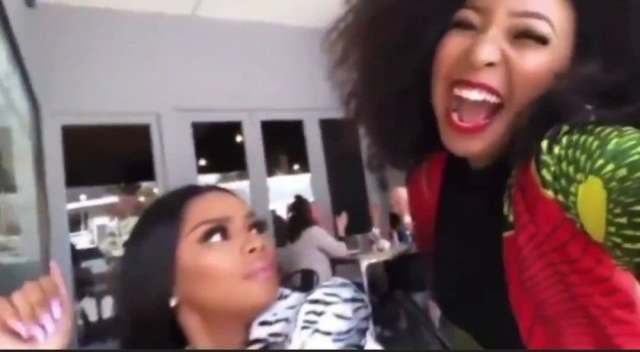 TV presenter Rorisang Thandekiso has cleared the air following a video that made rounds on social media today. The video shows Rorisang trying to take a video with Bonang Matheba who looks confused and almost uncomfortable.
While tweeps were ready to add Bonang to the mean girls' list, Rorisang came through and clarified that the video was taken years ago during a campaign shoot.
According to Rorisang, the video was taken in 2018 when they were shooting a campaign for the Tropika Smooth Fan show which aired on SABC 1 on Fridays at 6 pm.
The video shared by Rorisang shows other celebrities giving the same reaction as Bonang as she tries to take snaps with them.She tweeted: "This is why we are trending this morning, yol made my day. It was a TV show campaign back in 2018."
She tweeted: "This is why we are trending this morning, yol made my day. It was a TV show campaign back in 2018."
This is why we are trending this morning 🤣🤎🙏🏽

Yol made my day 😂 it was a tv show campaign back in 2018. #Rorisang #Rori pic.twitter.com/cnfm833ulA

— Rorisangt (@Rorisangt4) May 12, 2021
Weighing In, Nthabi responded: "I was surprised cause Bonang literally corrected your mom about knowing you not so long ago."
Lee-roy Wright: "This is hilarious babe! I remember us shooting this that day. So funny!"
This is why we are trending this morning 🤣🤎🙏🏽

Yol made my day 😂 it was a tv show campaign back in 2018. #Rorisang #Rori pic.twitter.com/cnfm833ulA

— Rorisangt (@Rorisangt4) May 12, 2021