Robert Marawa spills the beans, 1 person got him FIRED 3 times at SABC and SuperSport
Robert Marawa spills the beans, 1 person got him FIRED 3 times at SABC and SuperSport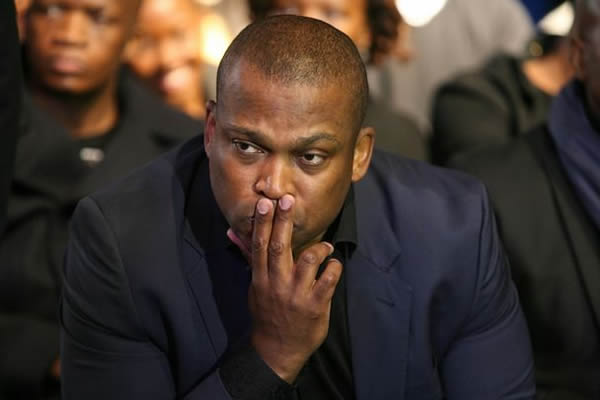 Celebrated sportscaster Robert Marawa has opened up about a "cabal" which he claims was behind his silencing from his shows at the SABC and SuperSport.
Marawa was fired from his show on Metro FM in July 2017. He was fired once again from another show on SuperSport in 2019, and then history repeated itself when he was fired from his groundbreaking show, Marawa Sports Worldwide, which was broadcast simultaneously on Metro FM and Radio 2000 last year.
With the broadcast houses releasing statements that the pundit was released – not fired – due to his contracts not being renewed, Robert Marawa, with the help of journalist and author Mandy Wiener, claims in his new book, Gqimm Shelele: The Robert Marawa Story, that he was fired on all occasions due to third parties.
"When I speak of external forces applying pressure on management at the SABC and SuperSport, who then am I referring to? I have said publicly that I believe that one person is responsible for having me fired multiple times.
He wrote: "I can never have proof. But, certainly, I have my suspicions. The first time I was fired from Metro by Sully [former SABC group sports executive Sully Motsweni] in 2017, I said to my producer that I thought the chairman, PSL chairman Irvin Khoza, was behind my firing."
Marawa said this was followed up with a four-hour meeting with Khoza at a private room at Melrose Arch in Johannesburg, where Khoza rejected Marawa's allegations, which were based on a meeting that occurred when he was at SuperSport. In a meeting, Marawa said, management told him that Khoza was not happy with his utterances regarding the Carling Black Label Cup, which he deemed distasteful.
He wrote: "I remembered the comments, but had not made them on a SuperSport platform. It had been on the radio, on Metro FM… Their argument was that I was the face of football at SuperSport and whatever comments I made, regardless of the platform, would reflect on them as a broadcaster."
Marawa revealed that he went on to get fired from his show at SuperSport after he had raised an issue to the then CEO Gideon Khobane about female colleagues who were allegedly sexually harassed by their male counterparts. He said this signalled the existence of a cabal that had the power to silence him.
Marawa's first exit from Metro FM came after he stood by his suspended producer Beverly Maphanga for playing clips on the station which were allegedly not authorised for airing. Marawa wrote that this was a deliberate trap set for him by the station to get rid of him.
The book says: "I believed that there was a cabal within the SABC, and its main aim was never about restoration or resurrection of the broadcaster. Their mission was to rubber-stamp their own authority and gain control and get rid of certain individuals. For some reason, I was always at the forefront of that and a prime target for this cabal."
Robert Marawa, who was again fired by the broadcaster last year, reveals in the book that he was sent a WhatsApp message by acting station manager Kina Nhlengethwa, just three hours before his show, telling him not to report to the studio as his contract would not be renewed.
He said his frustrations began with the underhanded tactics by then Metro FM station manager Sibongile Mtyali, who removed him and his team from the station's studios, forcing them to broadcast the show from Radio 2000's smaller studios.
"There was a directive – not officially on paper – that was put out by Sibongile that the sports show would not be done at Metro. They would just take the audio from the Radio 2000 studio, but, physically, we must not set foot in the Metro FM studios. She did that because she could. Of course, she was part of the cabal whose initial decision to get me out was being turned on its head. She had to play her part in ensuring that we are not comfortable."
Robert Marawa said he also faced difficulties with Radio 2000 station manager Christopher Choane, who caused problems for his team by raising issues over the simultaneous broadcast, saying they were not getting it right technically, with ad breaks that did not correspond and adverts that were similar on both stations.
As he faced more resistance and obstacles, he reached out to CEO Madoda Mxakwe, who had enticed him back to the SABC and had assured him that he would not be insulted.
Marawa said he initially had open communication channels with Mxakwe, but soon realised that things had changed when the latter started ignoring his text messages and turning down his meeting requests.
"In my mind, because I knew the landscape, I assumed the cabal had won him over and this was probably going to be the end of my time at the SABC."