Reality Show Power Couple Address Polygamy Rumours
Reality Show Power Couple Address Polygamy Rumours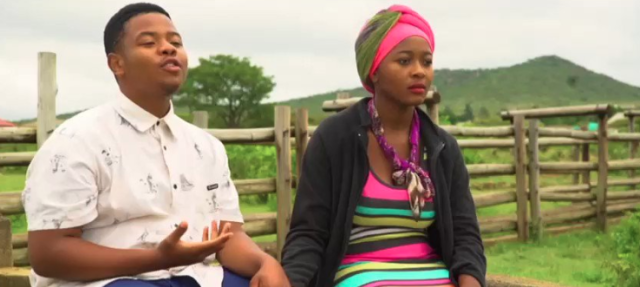 Young KwaZulu-Natal couple that took social media by storm in 2019 when their love story and journey into marriage was chronicled on Moja Love, is still together.
Siyacela and Thando Dlamuka (who were aged 16 and 15 respectively at the time) were stars of a show titled 'Isencane Lengane' which aired on channel 157, much to the dismay of many viewers.
The teenage couple took viewers on a journey which depicted their love life in a very controversial light. From concerns about their age to Siyacela's desire to have a second wive; Thando's schooling and Siyacela's father (Mthandeni Dlamuka) who was labelled a "creep".
In the season finale, the couple married and in the same year it was reported that there was trouble in paradise. It was alleged that the pair had split and Thando had left ULundi and gone back home to Nkandla. More reports indicated that Siyacela had dropped out of school because he felt he needed to man up and provide for his family.
However, Daily Sun has recently reported that the young stars are still together and are infact growing strong.
Read next: DJ Lamiez Speaks Out On Heartbreaking Incident
Speaking to Siyacela, he said that he will never forget how many people were not in support of their union and all the negative feedback they received.
"My wife and myself are still happy in our marriage. We have proven wrong many doubting Thomases."
When asked about taking a second wife, the now 18-year-old said that he was joking about that and he does not plan on ever having a polygamous marriage.
The star confirmed that he indeed di drop out of school, explaining that he was under pressure and being mocked by his mates and teachers for being a married man.
"That's one of the reasons I quit school in grade 9, few months after got married. Everybody, including teachers, started mocking me. If did wrong, just like any other pupil, teachers would single me out and say I was wrong because I thought I was now a man," he explained.
Siyacela also added that he got himself a code 14 driver's licence because he knows that soon enough he will need to stop being dependent on his dad and start providing for Thando and their future kids.
When asked about Thando, he said that she is now in matric and they still stand by the promise that they made to themselves and to their parents before marriage that they will only have kids when they become independent.
Still on the second wife issue, Siyacela's father said that he would never allow his son to have a second wife even if he wanted to.
"I have four wives myself. The fifth one, which was Siyacela's mum, died while he was still very young. I know how difficult it is in polygamy," he said.
The show is set to return for a second second season next month on Moja Love to show Siyacela and Thando Dlamuka's happily ever after.
In the second season's promo, Siyacela is seen saying he wants to take a second wife to which both his father and wife rubbish the idea.