Rasta Paints The Late Sibongile Khumalo
Rasta Paints The Late Sibongile Khumalo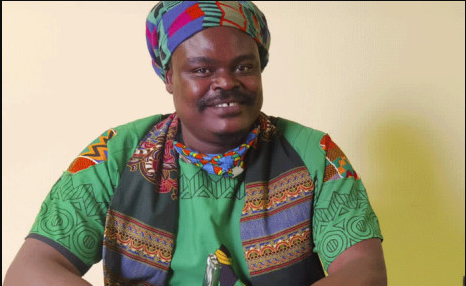 Unbothered Rasta has painted another late celebrity and upset tweeps with his controversial paintings. Painter, Lebani Sirenje who is popularly known as Rasta has paid tribute to Jazz/opera singer, Sibongile Khumalo by painting her.
Rasta Painting Sibongile Khumalo
Laying Sbongile to Rest at Market Theatre

RIP #SibongileKhumalo pic.twitter.com/Hq8zypaGFk

— Rasta The Artist (@RastaArtist) February 6, 2021
Laying Sbongile to Rest at Market Theatre

RIP #SibongileKhumalo pic.twitter.com/Hq8zypaGFk

— Rasta The Artist (@RastaArtist) February 6, 2021
Rasta, ha o kgatlhe. I don't even understand why people are entertaining this shit

— Mamane Bontle (@mamane_bontle) February 6, 2021
Sirenje who does most of his work at the market theatre in Johannesburg has painted artists, politicians and media personalities from all walks of life from the late Black Panther's Chadwick, the late Bob Mabena, to Somizi Mhlongo's mother.
Sirenje said this about the late Khumalo in an interview: "I was very sad when I heard about her death. She was a legend and great musician. I am a huge fan of her music and have been following her for quite some time. I chose her picture because she always rocked a doek very well."
Though Sirenje seems genuine and paints from the heart, he's not a fan-favourite amongst tweeps as he seems to get his paintings wrong.
"I am used to the backlash I always receive. I have accepted that there'll always be critics in everything I do, so I'm not bothered anymore. I used to get affected every time comments that the portrait of the person looked nothing like them. But now I just cut through the noise and do what I'm good at."
Tweeps are not pleased with his work as they're always begging him to stop their favourite celebrities. When the late Kortes hitmaker passed away last year, tweeps begged him to not paint her but he didn't listen. He took his time to draw her and fans of the late Mshoza were waiting anxiously for her portrait even though the dislike his work.
This is what he said about Mshoza: "I'm currently taking my time to paint and honour the legend painiting will be out before memorial. Bare with me comrades!"
When Mshoza's painting was released, tweeps wondered if he was looking in the mirror as Mshoza resembled the artist himself. Internationally acclaimed artist, Black Coffee also shaded the painter.
Here are some comments regarding Rasta's paintings:
"Rasta remains undefeated."
"You always waste paint."
"Rasta is at it again."
"Don't worry Rasta drew himself this time."
"This is not funny anymore. Find another hobby or sell weed once. We will support you but we're not supporting this humiliation."
But Sirenje is so unbothered about the negative comments from tweeps and celebrities as he plans to open a painting school where he would teach the youth to paint.